Treasure Island Festival Lineup to Feature Flaming Lips, Girl Talk, Decemberists, Passion Pit and More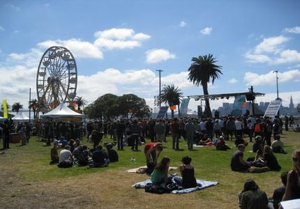 West Coasters who weren't able to make the trip to Williamsburg for the JellyNYC Pool Parties or Manchester, Tenn. for Bonnaroo needn't fret: They can get the best of both worlds on a man-made island smack dab in the middle of the San Francisco Bay at this year's Treasure Island Music Festival. And hey, there's even going to be a Ferris Wheel!

The lineup for the event, which will take place on Oct. 17 and 18, was recently released, and we have to say, it's looking mighty impressive. The first day promises to be a bit of a dance party with MGMT, MSTRKRFT, Girl Talk and Passion Pit slated to perform. The next day will feature the likes of Grizzly Bear (no word on Lil Wayne yet, though), The Walkmen, Beirut and The Decemberists, all before a headlining performance from perennial festival-headliners The Flaming Lips.

Tickets are on sale now, but seem to be going pretty fast, so get some more info on the event and then snatch one while you can.


Others Tagged With