Ty Segall Takes Lemons And Makes Really Big Fall Tour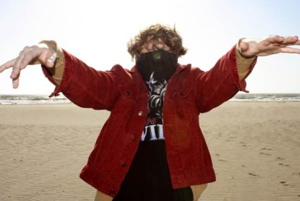 As a one-man garage band powerhouse, San Francisco's Ty Segall is cooler than this guy, this guy, and all of these guys put together, who aren't even a one-man band. He plays drums and guitar at once, throttles his vocal chords and ships it all off through waves of reverb with, like, great melodies and stuff.

Segall, after all, is a swarthy part of the ever-budding garage-friendly Bay Area scene, where
Thee Oh Sees
and others channel Nuggets and Pretty Things with oomph and style. After last year's debut
Castle Face
, we've now gotten
Lemons
, an album in turns scuzzy and gorgeous, which Segall is taking back on tour beginning in August.
The live shows of
Lemons
are actually so ferocious that they've now required Segall to abandon one-man-band-dom and take on some touring help. So when you check out "Ty Segall" as a three-piece, you won't get the full effect of those at past shows:
Still, Segall has with him such acts as the Dirtbombs, Jeff the Brotherhood, the Mantles, Golden Triangle and Digital Leather. And he's planning a stop at
Goner Records' infamous Gonerfest in Memphis
, which features almost too many garage rockers to be entirely believable.
See him live:
August
28
- San Francisco, CA @ Amoeba Records In-store
29 - San Francisco, CA @ Rickshaw Stop
30 - Santa Cruz, CA @ The Resource Center for Violence
31 - Oakland, CA @ 21 Grand

September
2 - San Jose, Calif. @ The Blank Club
3 - Arcata, Calif. @ Jambalaya
4 - Portland, Ore. @ East End
5 - Seattle, Wash. @ The Comet Tavern
6 - Bellingham, Wash. @ Whaam
7 - Olympia, Wash. @ Grandma's House
8 - Spokane, Wash. @ Empryean Coffee House
9 - Missoula, Mont. @ The Palace
11 - Carbondale, Ill. @ Booby's
12 - Chicago, Ill. @ Empty Bottle (Wire Festival)
13 - Chicago, Ill. @ Ottoman Empire
14 - Detroit, Mich. @ Garden Bowl
15 - Toronto, Ontario @ Sneaky Dee's
16 - Montreal, Quebec @ Divan Orange
17 - Binghamton, N.Y. @ Fitzie's Pub
18 - Brooklyn, N.Y. @ Death by Audio
19 - Princeton, N.J. @ Terrace F Social Club at Princeton University
20 - New York, N.Y. @ The Mercury Lounge
21 - Hoboken, N.J. @ Maxwell's
24 - Memphis, Tenn. @ Gonerfest
25 - Memphis, Tenn. @ Gonerfest
26 - Memphis, Tenn. @ Gonerfest
27 - New Orleans, La. @ Monotonix
Related links:
Ty Segall on MySpace
Goner-Records.com
SXSW: Nobunny Makes Me Feel Funny

Got news tips for Paste? E-mail news@pastemagazine.com.
Others Tagged With