Video Game-Inspired Netlabel Releases 8-Bit Weezer Comp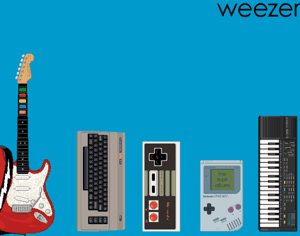 The combination of Rivers Cuomo and his merry band of geek-rockers with the noises of old-school video games may be the nerdiest fusion of ideas since, well, any other 8-bit tribute ever made. Diehard Nintendo fans seem to have remixed everything from Miles Davis to Chamillionaire, always putting their special spin on the tunes. There was even an 8-bit throwdown at this year's SXSW. This week, it's a selection of Weezer songs, NESified by an online netlabel called Pterodactyl Squad.
Like one big analog-style Girl Talk collective, the cast of video-game musicians at Pterodactyl Squad have re-imagined seminal tracks like "Hash Pipe," "Holiday," "The World Has Turned And Left Me Here," and, of course, "Buddy Holly." The album is available in its entirety for free, whether you want the entire thing or just a particularly pitiful-sounding "In the Garage." We can almost hear Cuomo's pixelated whine.
"The songs on this compilation have mostly been created using original video game hardware running home-brew software," explains the label, "and vary radically in style, from minimal 'one man and his Game Boy' compositions to 8-bit-inspired full-band performances." The degree of variety might be lost on those of us who haven't battled a Koopa Troopa in nearly two decades, but you can check it out anyway on the
Pterodactyl Squad site
.
Related links:
Others Tagged With