Warp Records Celebrates Twenty Years With Warp(20) Box Set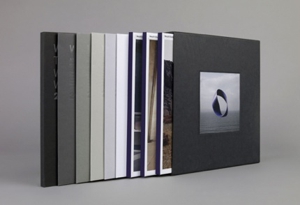 Twenty years ago, Warped Records opened its doors as a shop and record label in Sheffield, England. Too difficult to distinguish the "-ed" over the phone, they eventually dropped the last two letters and Warp Records was born. In the decades since, Warp has brought us the likes of sixty-something artists, among them Aphex Twin, Jamie Lidell, Gang Gang Dance, Squarepusher, LFO, and, more recently, Grizzly Bear and Battles. Now, the label is spending all of 2009 celebrating two decades of Warp—the perfect excuse for a premium box set.
Warp(20)
is a cornucopia of music, artwork and design—because after all, Warp is known for more than their pioneering roster of musicians. The Warp name has equal pull in the design world, after the company's two decades spent pairing cutting-edge graphic designers, photographers and videographers with their music. The box set reflects this in its inclusion of standard box set fare (exclusive rarities and favorite tracks from their illustrious musical history) swathed in embossed charcoal paper topped with a Dan Holdsworth photograph.
But B-sides and rarities aren't all that make up the musical smorgasbord of
Warp(20)
. A double-disc album, (
Chosen)
, is the "definitive best of Warp," the label says, with tracks handpicked by both Warp co-founder Steve Beckett and
you
—ten tracks on the disc were chosen by Warp voters, and the album comes with a pull-out poster of fans' personal messages and memories. The
(Recreated)
double-disc album will feature covers of Warp songs "by Warp artists both past and present." Pressed on 10" vinyl,
(Unheard)
is the treasure trove of the box set, with "newly rediscovered" tracks dug up from the Warp vaults. Another CD,
(Elemental)
, will consist of an hour-long piece of re-edited Warp musical fragments spanning the label's history. Finally, on double 10" vinyl,
(Infinite)
gives you four sides of loops from Warp tracks for your own personal mixing pleasure. The cherry on top is arguably the catalogue, a tome of nearly 200 pages filled with artwork from Warp artists—and a foreword from Beckett himself.
Warp's own online digital music store, Bleep, is already open for
Warp(20)
pre-orders. The ultra-luxe package racks up at a grand total of $150—but if you're interested in acquiring a massive, extravagant box of aural and visual delight, head over to
Bleep
to reserve your own.
Check out the newly announced tracklist for
(Chosen)
below:
Disc 1: (As chosen by fans on
Warp20.net
)01. Aphex Twin 'Windowlicker' (6.08)
02. Boards Of Canada 'Roygbiv' (2:31)
03. Squarepusher 'My Red Hot Car' (4:19)
04. Battles 'Atlas' (7:07)
05. LFO 'LFO (Leeds Warehouse Mix)' (5:19)
06. Plaid 'Eyen' (4:20)
07. Luke Vibert 'I Love Acid' (4:19)
08. Autechre 'Gantz Graf' (3:58)
09. Jimmy Edgar 'I Wanna Be Your STD' (5:04)
10. Clark 'Herzog' (4:23)Disc 2: (As chosen by Warp co-founder Steve Beckett)01. Broadcast 'Tender Buttons' (2:52)
02. Squarepusher 'My Sound' (6:07)
03. Boards Of Canada 'Amo Bishop Roden' (6:16)
04. Battles 'Race : Out' (3:30)
05. Flying Lotus 'GNG BNG' (3:39)
06. Black Dog Productions - Xeper 'Carceres Ex Novum' (6:43)
07. Nightmares On Wax 'I'm For Real' (6:19)
08. Mike Ink 'Paroles (Original)' (5:34)
09. Aphex Twin 'Bucephalus Bouncing Ball' (5:45)
10. Jamie Lidell 'Daddy's Car' (4:06)
11. Squarepusher/AFX 'Freeman Hardy & Willis Acid' (5:43)
12. Seefeel 'Spangle' (7:21)
13. Autechre 'Drane' (10.52)
Others Tagged With