Watch the Trailer for Drew Barrymore's Directorial Debut, Whip It!, Starring Ellen Page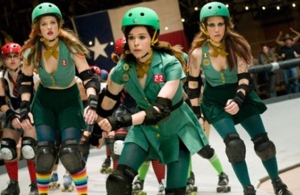 Drew Barrymore's long-expected directorial debut, Whip It!, finally has its first trailer. The movie stars Ellen Page as a small-town Texas teen who travels to a hardcore roller derby in Austin and finds herself.
Given that the movie features Page in her first starring role since
Juno
, the trailer unsurprisingly strikes the same auto-idiosyncratic vibe as that movie. But it also hints at a more genuine, good-natured sense of humor that's unusual for the canon, and Barrymore over the years has earned our curiosity. The movie opens Oct. 9.
Related links:
Others Tagged With