Weezer Reissues Pinkerton, Gets Covered by Sugar Ray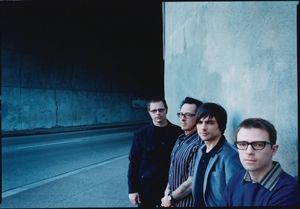 Unlike some music Paste staffers loved in their adolescence, Weezer has proven to possess some impressive staying power, at least in terms of news headlines. We recently told you all about the 8-bit tribute to the group and Clear Channel's Weezer-controlled radio station, but the Weezer busy-ness doesn't end there. While the group is busy wrapping up a new album, everyone's favorite geeky foursome is being included on compilations, covered and reissued.

Yesterday, Guitar Center put out its latest free compilation disc, Fresh Cuts Vol. 4, which features a previously unreleased Weezer demo from 2000 titled "Everybody Go Away" that didn't quite make it onto the Green Album. Also out yesterday was Sugar Ray's latest album, Music For Cougars (someone alert Courteney Cox!), on which Mark McGrath and Co. perform a rendition of the recorded-but-never-released Weezer tune "Love Is The Answer." And for a bigger dose of Weezer, fans can keep an eye out for the reissue of 1996's classic Pinkerton, which doesn't have a definite release date yet.

Seems to us like the best thing to do is to snuggle up in your Wuggie and spend the day in Weezer appreciation mode, even if it does mean taking a chance on a Sugar Ray track.


Related links:
Others Tagged With