Green Day Play Moves Forward, as Movie Rumors Fly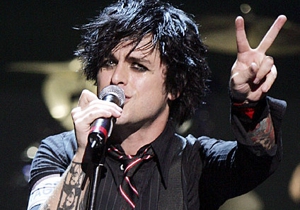 In 2004, Green Day released American Idiot, a punk-rock opera that was written as an anthem to a generation fed up with the Bush Administration and everything that went along with it. For a while now, the band has been plotting a musical based on the album, to open early next month at California's Berkeley Repertory Theatre. It was an unforeseen turn of events, to be sure (even frontman Billie Joe Armstrong told the New York Times, "It doesn't make a lot of sense."), but it's definitely going to happen, as the actors who will bring St. Jimmy, Jesus of Suburbia, Whatshername and pals to life have recently been announced.
John Gallagher Jr., who won a Tony Award for his role in Spring Awakening, has signed on to star in the play. The ensemble cast of 19 will also feature talent from Jesus Christ Superstar, Passing Strange, The Intelligent Homosexual's Guide to Capitalism and Socialism with a Key to the Scriptures, South Pacific and Avenue Q. Throw in director Michael Mayer, who also won a Tony for his work on Spring Awakening, and it seems like a promising dream team.

So promising, in fact, that we may not have heard the last of American Idiot. Armstrong recently told the Associated Press, "I thought American Idiot had a lot in common with something like Rocky Horror Picture Show. It would great to see a film made out of it someday too." It's not the first time the idea has been tossed around. In 2004, Armstrong claimed he was "excited" about comparisons between his own rock opera and Tommy by The Who, which was turned into a film. Back then, though, the band found the idea of an on-stage adaptation downright laughable, so it's certainly hard to say what beyond the immediate future is in store for American Idiot.

Related links:
Others Tagged With