Artist of the Week: Brian Harnetty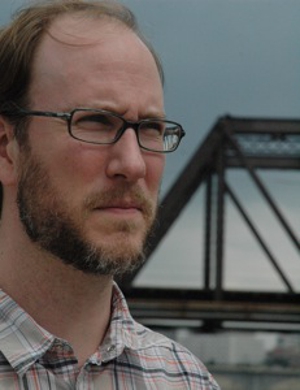 Hometown: Columbus, Ohio
Album: Silent City
For Fans Of: Bonnie 'Prince' Billy, Steve Reich, Anthology of American Folk Music

In 2006, musician and sound artist Brian Harnetty had the opportunity to spend a few months rummaging through the Berea College Appalachian Sound Archives in Kentucky. He treated it like a regular job, camping out in a basement corner from 9 to 5, immersing himself in old field recordings and radio broadcasts on cassettes, reel-to-reel tapes and '78s. "There's so much. It's overwhelming," says Harnetty, 36. "Sometimes I would just type a word [into the database], like the word 'winter,' and then come up with every single song that has the word 'winter' in it." Other times, he says, "I would just walk into the archives and start randomly pulling tapes."
Harnetty wasn't sure what he was looking for at the time, but eventually emerged with 30 to 40 hours of archive materials from which he's been making new music ever since. He's a collage artist of an unusual sort: His first album inspired by the Berea archives, American Winter (released by Atavistic Records in 2007), was chock-full of found sounds—the story of a 1928 outdoor funeral, a crackly-voiced woman singing a song called "Drunkard's Dream," another woman struggling to remember the words to a song— all interwoven with Harnetty's airy, unobtrusive instrumentation, evoking a ghostly, eavesdropping experience.

For his new record, Silent City (out Aug. 11), Harnetty enlisted the help of Will Oldham, a.k.a. Bonnie "Prince" Billy. "I kept hearing elements of his voice in the old recordings that I was listening to," Harnetty says. The archival samples are pushed deeper on the new LP, buffering between Harnetty's loosely laconic instrumentals (lots of Rhodes and toy pianos, accordion, bells, clarinet) and three tracks with Oldham's voice floating like gossamer over sleepy drones. Harnetty took melodic inspiration from songs found in the Berea collection, like the fiddle ditty that ends the first track, "The Night Is, And Lights Are." The lyrics came together like a puzzle: He had had one list of words and phrases of his own creation, one list of text fragments from the Berea archive and one list of Oldham's making, and Oldham pulled from each to create something cohesive.

"It was pretty extraordinary to watch that happen in the studio," Harnetty says. "It was a fascinating collaboration."

The result is an other-worldly album that demands—and deserves—undivided attention in a darkened room with some good headphones. In that environment, you might just be transported to the mythological small town Harnetty imagined while recording. "I had this vision in my mind of being late at night, and you're in an old dive bar, and it's between being awake and being asleep," he says. "You're tired, but at the same time you're observing—and it's simple but pretty extraordinary, too."

Download "Sleeping in the Driveway" from Brian Harnetty and Bonnie "Prince" Billy's Silent City.

Others Tagged With