Built to Spill Set Release Date for New Album, Gear Up for Another Tour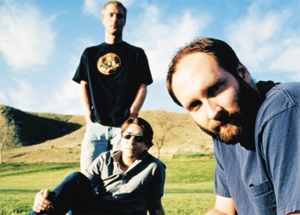 There's a third, lesser-known certainty in life besides death and taxes: epic, sprawling tours courtesy of Boise alt-rock legends Built to Spill. Seems like they've been on the road more often than not since the release of 2006's You In Reverse, a trend that appears set to continue as they near the release of their seventh LP, There Is No Enemy, now confirmed for a release date of Oct. 6.
Doug Martsch and company kick off another lengthy cross-country jaunt on Aug. 20 (with labelmates The Flaming Lips, no less). The tour will then crisscross up, down and all around the lower forty-eight in the U.S., with a couple of shows in Canada to boot, going hard until late November.
There Is No Enemy is out Oct. 6 on Warner Bros. Records.
August
20 - Troutdale, Ore. @ Edge Field (w/ Flaming Lips)
22 - Santa Barbara, Calif. @ Velvet Jones
23 - Los Angeles, Calif. @ Sunset Junction
24 - San Diego, Calif. @ The Casbah
25 - Santa Ana, Calif. @ Galaxy Concert Theater
26 - Solana Beach, Calif. @ Belly Up Tavern
28 - San Francisco, Calif. @ Outside Lands Festival
29 - Arcata, Calif. @ Humboldt State
September
18 - Boise, Idaho @ Hyde Park Street Fair
19 - Murray, Utah @ Murray Theatre
20 - Denver, Colo. @ Bluebird Theatre
21 - Denver, Colo. @ Bluebird Theatre
23 - Omaha, Neb. @ Slowdown
24 - Minneapolis, Minn. @ First Avenue
25 - Madison, Wisc. @ Barrymore Theatre
26 - Chicago, Ill. @ Vic Theatre
27 - Wilwaukee, Wisc. @ Turner Hall Ballroom
28 - Bloomington, Ind. @ Bluebird Nightclub
29 - St. Louis, Mo. @ The Pageant
October
1 - Columbus, Ohio @ Newport Music Hall
2 - Newport, Ky. @ Southgate House
3 - Royal Oak, Mich. @ Royal Oak Music Hall
4 - Cleveland Heights, Ohio @ Grog Shop
6 - Toronto, Ont. @ Lee's Palace
7 -
Toronto, Ont. @ Lee's Palace
8 - Ithaca, N.Y. @ State Theatre
9 - Cambridge, Mass. @ Middle East
10 -
Cambridge, Mass. @ Middle East
11 -
Cambridge, Mass. @ Middle East
12 - New York, N.Y. @ Webster Hall
13 -
New York, N.Y. @ Webster Hall
14 - Brooklyn, N.Y. @ Music Hall of Williamsburg
15 -
Brooklyn, N.Y. @ Music Hall of Williamsburg
16 - Philadelphia, Pa. @ The Trocadero
17 - Washington, D.C. @ 9:30 Club
18 - Carrboro, N.C. @ Cat's Cradle
20 - Athens, Ga. @ 40 Watt
21 - Memphis, Tenn. @ Minglewood Hall
22 - Dallas, Texas @ Granada Theater
23 - Houston, Texas @ Warehouse Live
24 - Austin, Texas @ Stubb's Waller Creek Amphitheater
25 - Oklahoma City, Okla. @ Diamond Ballroom
27 - Albuquerque, N.M. @ Sunshine Theatre
28 - Tucson, Ariz. @ Dry River
29 - TBA
November
15 - Eugene, Ore. @ WOW Hall
17 - Bellingham, Wash. @ The Nightlight
18 - Vancouver, B.C. @ Commodore Ballroom
19 - Seattle, Wash. @ Showbox at the Market
20 -
Seattle, Wash. @ Showbox at the Market
Related links:
Others Tagged With