Watch the Cameron Crowe-Directed Video for Pearl Jam's "The Fixer"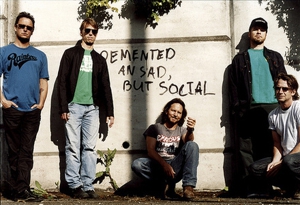 In May, Pearl Jam's secret show at Seattle's Showbox surprised 300 people on the spot, then left many more wondering why Cameron Crowe was filming.
But as manager Kelly Curtis told
Billboard
, Crowe filmed more footage than necessary for a a commercial, in part of
a developing partnership between Pearl Jam and Target
. Recently, some of that footage hit the web in the form of a music video:
"The Fixer" is the debut single from Pearl Jam's
Backspacer
, which is slated for a Sept. 20 release. The video is also available as a free iTunes download. According to Curtis, Crowe had shot up to three other songs that night. Which is to say: He still has leftover footage for a Pearl Jam anniversary documentary in the works.
Related links:
News: Pearl Jam Partners with Target, Plays Conan
News: Pearl Jam stays busy with album, Cameron Crowe, more
Others Tagged With