Catching Up With... The Hurt Locker's Jeremy Renner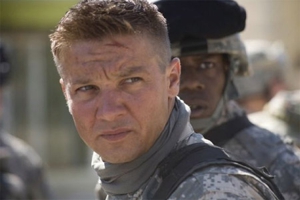 Ninety percent of all war movies can be summed up in three words: "War is hell." But for Jeremy Renner's character in The Hurt Locker, Staff Sargent William James, it's more than that. It's a purpose, a calling, and when he dons the suit—the bulky protective gear of the elite Explosive Ordinance Disposal (EOD) unit—it's also a rush. He's at his best when he's defusing bombs in Iraq. It's the rest of life that's difficult. Renner's intense portrayal has already earned him his second Independent Spirit Award Best Male Lead nomination (his first came in 2003 for his portrayal of the psycopath in Dahmer). He's also one of the stars of the new ABC series The Unusuals, and if the rumors are true, he'll be the new Mad Max. Paste sat down with Renner during his recent stop in Atlanta to discuss his time shooting The Hurt Locker in Jordan as well as his musical aspirations.
Paste: The Hurt Locker was filmed in Jordan. How important was it for you guys to be filming it just a few miles away from Iraq, right during the surge?
Jeremy Renner: This film wouldn't have turned out if we hadn't filmed in Jordan. I don't think any of us were skipping to go shoot in the Middle East. Selfishly, I think most of us were like, "Can't we just go shoot it in the desert in California? It'd be nicer." But yeah, we'd have never gotten what we needed to get. The backdrop of this movie is another character. So it was so important and telling. It certainly informed us of a mood—a time, a place, the heat, the smell, the tastes of the food, just everything. It just informed us of so many things personally and for the movie. I think it was probably the most important decision made. We were going to do it in Morocco, which wasn't going to work out. And Kuwait, which would have been absolutely awful, because it's like 135 degrees there. So I'm glad we shot in Jordan, because it's beautiful there, and people treated us nice.

Paste: What was it like working in Jordan?
Renner: Working was awful. Off, when we weren't working, people were fantastic. Some of the most beautiful places on the planet that I've seen were there—Petra, the Red Sea, the Dead Sea, it was gorgeous, really ridiculously gorgeous. I didn't feel like there was a whole lot of that happening. We weren't there to vacation. But whenever we got a moment, we certainly exposed ourselves to those beautiful part. But otherwise, shooting was hell.

Paste: Did you have a chance to meet any of the guys in the EOD units?
Renner: Yeah, but that was all prior to going over. Guys that have done four tours, going back for another. A guy that just did one and is getting out. I got to spend quite a bit of time with them. I wish I could get a hold of them because I wanted to thank them. They helped me out tremendously. They were so giving. They stayed with me in my house so we got to hang out a bit versus just like learning all the stuff. It was nice to be able to just sit and chat with them as human beings. And dig into them why they do what they do.

Paste: Did you feel any additional pressure in trying to portray people who are currently putting their lives on the line?
Renner: It wasn't so much pressure. It was something that Katherine and Mark and all of us really wanted to do—to make this as accurate as we possibly could because we respect this particular group, the EOD group, so much. They're the unsung heroes of this war who put their lives on the line during arguably the most dangerous job around. It was important to all of us because it's so unfamiliar to most people. It's also a volunteer job—it's not something that people are forced to do, and that makes it so fascinating. So we wanted to try to put it in the light that it deserves—honorable, brave, courageous, its prevalence with what's happening now. These are the people protecting our country.

Paste: What was it like inside that EOD suit?
Renner: Hot. Peaceful. Hell. It was two things—it was hell and it was peaceful. Mostly, it informed me so much as an actor to what that character was. There's nothing like it.

Paste: One of the most striking things watching the film is that you have these two characters. For Brian Gerehty's character war is just absolute and total hell. And for your character, war is like a drug or an addiction…
Renner: Or a way of life.

Paste: How did you get inside a character like that?
Renner: Well, there was a long process, and I think that process kind of continues—trying to figure out that kind of complexity in a character is very easy and also very difficult. I was asking a lot of questions. No matter how focused I was and how clear I am about James—and how even when I watch and think, "OK, it came across like I wanted to come across—people still take away different things. "Oh yeah, he's an adrenaline," or a thousand other things. Yeah he is that, or he can be that. But it can be interpreted a lot of different ways. But for me, it comes down to this: that James was born to do one thing on the planet, and he's good at. The most interesting thing about it is that it's the most selfless job to put your life on the line every day for others, to risk your own life to save others. That's probably the most selfless act you can do. But in doing that, he's being selfish. And by that, I mean he's leaving his wife and his child. And he'd probably be a good damn dad and probably be a pretty good husband—if he didn't have this in him. So that duality fueled me to answer questions and put this guy together and figure out why he does what he does. Simple scenes, like the supermarket scene with the cereal, where not one word is spoken, but the images speak volumes on just not being able to connect with his family, his child, his life. He was enjoying his life and what he was doing. It made him feel great, knowing that you're doing something so—making your mark on the planet and you sleep well at night knowing, "I'm doing the best thing I can, and it happens to be a good thing for other people, as well." Most EOD, when they leave EOD, become civil servants—teachers, people that make differences, that help, firefighters. They're all civil servants of some kind. That's pretty much the through-line. It becomes their life. "Every One's Divorced" is what EOD stands for in EOD. There are a thousand acronyms for what EOD really stands for, for them. It's not an addiction thing; it just becomes such a way of life. It's a passion for them. I connect to that because I've sacrificed everything in my life to be an actor.

Paste: Do you see similarities when you go off and do a shoot and then you come home and have to readjust and reconnect?
Renner: Absolutely. Just shooting this movie and being in the Middle East for the first time and coming back to the States. It was such a difficult experience being over there, I had a hard time—and so did Brian Geherety, all of us—adjusting to life back here. And that's just being in the Middle East. I can't imagine what guys that see death and put their lives on the line everyday—I couldn't imagine what that's like, how much time that would take. It took me three months. I couldn't leave the house. It was torturous for us.

Paste: The character you play in The Unusuals is very different from what you play in The Hurt Locker. What have you learned about doing television through this series?
Renner: It's fast. I always knew it was fast. I mean, I've done a lot of TV, but never a TV series—to be one of the leads of the show, to be there every day. I mean wow, that's a lot of work, man. I was in the greatest city on the planet, New York City, Manhattan, and I didn't see anything. I lived in the East Village—awesome. I lived in a box, walked down six flights of stairs, got in a box with wheels on it that drove me to the stage in that box. It was just all boxes. I just went to work and came home. It was a lot more work than I thought it was going to be. Truly, because you're just like—get these lines out, make it happen, make it fast, move on.

Paste: Were there things that you liked about TV versus film?
Renner: I mean, you get paid well. It's nice to have a driver drive you to work. And then you come in and there's coffee and they order you breakfast, whatever you want. All that was kind of fun. And the last movie I'd done prior to that was The Hurt Locker. And I just laugh because there was none of that. Which is no reason to do a job, but it was kind of nice.

Paste: Now, you've done several musical performances in films like The Assassination of Jesse James and North Country. But I hear that you also write your own music. What kind of stuff do you write?
Renner: You know, I've been writing for a while. I was a musician before I was an actor. And I've had influences all across the board, from jazz to country to rap. But my main focus when I write is usually along the vibe of Muse, Radiohead, Queen. And just throw in some classic rock guys that I just adore like Zeppelin and throw in some Black Crowes. All that really to me has soul in the music. It evokes an emotion. That's the kind of stuff I dig. And it all has to be strong melody based. That's really important to me.

Paste: So you were a musician before an actor. What were you doing? Were you playing in bands?
Renner: I started with drums when I was 15, 16. And then I moved on to guitar and piano so I actually could learn to write songs. And then I studied voice, taking opera and Broadway and that sort of stuff to strengthen my diaphram.

Paste: And Adam Goldberg, who you work with on The Unusuals just had an album come out. Do you see yourself doing that?
Renner: Yeah, but he focused and had the band and made the time. I've been so busy building houses and other aspects of my life that require a lot of time and a lot of energy. I'm just one of those guys that, when I commit to something, I do it. So I feel like when I really start to record, I'll pump it out in a month.

Others Tagged With