Clipse to Tour with The Cool Kids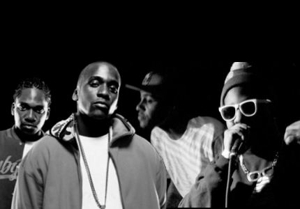 File this one under "just crazy enough to work." Starting in August, Clipse will team up with The Cool Kids for a short North American tour. Could this be the grand coming together of two previously mutually exclusive hip-hop worlds? In a couple months, will Pusha T be rocking a rad LOMO camera in Williamsburg while Chuck Inglish is feuding with Gucci Mane in Bankhead? Who knows, but the two groups also have a number of solo shows scheduled on the side, including The Cool Kids' jaunt through Australia with the Parklife Festival.
In addition to touring, Clipse has been characteristically busy as of late. Pusha T and Malice have completed their third record, Till The Casket Drops, which is tentatively scheduled for release sometime in September, though considering how hard it's been for Clipse to release an album on schedule, it's probably a good idea to take that date and push it back a couple months just to be on the safe side. Clipse's first single, "I'm Good," has been making the rounds on the blogs for a while now, and the duo just released the music video for "Kinda Like a Big Deal," featuring Kanye West. The Cool Kids, who have had their own fair share of release-date problems, are still planning to release When Fish Ride Bicycles sometime in the near future. Until that time, we'll settle for their appropriately titled collaboration with The Bloody Beatroots, "Awesome."

Clipse and The Cool Kids Dates:

August
12 - Dallas, Texas @ Granada
15 - Las Vegas , Nev. @ LAX
16 - Pomona, Calif @ House Of Blues
17 - Los Angeles, Calif. @ House Of Blues
18 - San Diego, Calif. @ Canes
23 - Detroit, Mich. @ St. Andrews
25 - Grand Rapids, Mich @ Intersection
26 - Cleveland, Ohio @ House of Blues
27 - Toronto, Ontario @ Lee's Palace
28 - Boston, Mass. @ Paradise
31 - Richmond, Va. @ National

September
1 - Norfolk, Va. @ Norva
3 - Oxford, Ohio @ Brick Street Bar

Clipse Dates:

August
8 - Philadelphia, Pa. @ Starlight Ballroom
14 - Minneapolis, Minn @ First Avenue
21 - Chicago, Ill. @ Metro
29 - San Francisco, Calif. @ TBA

Cool Kids Dates:

August
7 - Tokyo, Japan @ Ageha Nightclub
14 - Phoenix, Ariz. @ Clubhouse
21 - Lawrence, Kan. @ Granada
22 - Madison, Wis. @ Orpheum Theater
30 - New York, N.Y. @ SOB's

September
26 - Brisbane, Australia @ Parklife Festival
27 - Perth, Australia @ Parklife Festival

October
3 - Melbourne, Australia @ Parklife Festival
4 - Sydney, Australia @ Parklife Festival
5 - Adelaide, Australia @ Parklife Festival

Related links:
News: Clipse and Rick Rubin Collaboration Underway
Review: Clipse: Hell Hath No Fury
Video: The Cool Kids - "Black Mags"

Got a news tip for Paste? E-mail news@pastemagazine.com.

Others Tagged With