Mike Doughty to Release Sad Man Happy Man in Oct.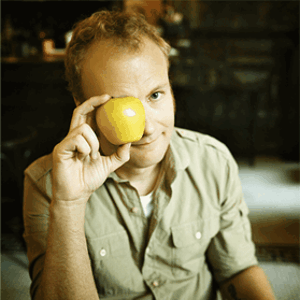 Ever since Soul Coughing found its way into our heads with the sly jazz rhythms of "Super Bon Bon" back in 1996, then-frontman Mike Doughty's been a musical character to watch. He's the type of musician just as apt to have a great conversation about Young Jeezy as to write a great song about twisted perceptions of the world.

A year and half after his last solo effort, the beautifully twisted Golden Delicious, Doughty's back for another bite with Sad Man Happy Man, which drops Oct. 6 on ATO.

As Golden Delicious was full of slanted pop-rock tunes with catchy choruses, Sad Man Happy Man will revert to Doughty's terse wordplay and transformative song structure of yore with tunes about breaking-down relationships and even the breaking-down economy. And with sparser instrumentation, Doughty's wit should have room to burst through.

Fans of Doughty's penchant for weaving covers into his own tunes (Mary J. Blige's "Real Love" never sounded so sincere) fear not; Sad Man concludes with fellow twisted troubador Daniel Johnston's "Casper the Friendly Ghost."

Now that'd be a duet.

Tracklist:

1. Nectarine (part two)
2. (I Keep On) Rising Up
3. (You Should Be) Doubly (Gratified)
4. Lorna Zauberberg
5. (I Want to) Burn You (Down)
6. Pleasure on Credit
7. Lord Lord Help Me Just to Rock Rock On
8. (He's Got the) Whole World (in His Hands)
9. (When I) Box the Days (Up)
10. Year of the Dog
11. Diane
12. How to Fuck a Republican
12. Casper the Friendly Ghost

Mike Doughty on the road:

October
8/9 - Pittsburgh, Pa. @ Club Cafe
10/11 - Toronto, Ont. @ The Drake Hotel
13 - Cleveland, Ohio @ Beachland Ballroom
14 - Ann Arbor, Mich. @ The Ark
15/16 - Chicago, Ill. @ Schubas Tavern
17 - Milwaukiee, Wisc. @ Shank Hall
18 - St. Louis, Mo. @ Blueberry Hill
20 - Louisville, Ken. @ Zanzabar
21 - Nashville, Tenn. @ 3rd & Lindsley
22 - Athens, Ga. @ Melting Point
23 - Decatur, Ga. @ Eddie's Attic (two shows)
24 - Charlotte, N.C. @ The Evening Muse
25 - Asheville, N.C. @ Grey Eagle Tavern
27 - Carrboro, N.C. @ Arts Center
28 - Charlottesville, Va. @ The Southern
29 - Alexandria, Va. @ Birchmere
30 - Sellersville, Pa. @ Sellersville Theatre
31 - New York, N.Y. @ Le Poisson Rouge

Related links:
News: Ask Mike Doughty a Question
Review: Mike Doughty: Golden Delicious
MikeDoughty.com/Blog


Others Tagged With