Getting to Know... Chairlift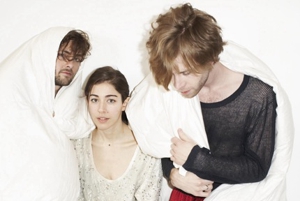 Chances are, you've heard at least 30 seconds of a Chairlift song—the bouncy pop of "Bruises" was used to launch Apple's fourth generation iPod Nano this past spring. But the only other bouncy thing about the trio's album Does You Inspire You (their major label debut, released around that same time) is how it jumps around from genre to genre: "Garbage" is a trippy apocalyptic prediction, the synthpop of "Planet Earth" could have played right alongside Depeche Mode or Human League in the early 1980s, "Earwig Town" is a spaced-out country tune, and "Evident Utensil" and "Le Flying Saucer" are straight-up dance tracks. But what the album lacks in cohesion, the Brooklyn-based band makes up for with sheer creativity. Paste recently talked with Chairlift's co-singer/songwriter Aaron Pfenning from the UK, where he and bandmates Caroline Polachek and Patrick Wemberly were playing a handful of festivals before launching a headlining North America tour and supporting Phoenix in the U.S. and Europe this fall.

Paste
:
How are you enjoying the UK?
Aaron Pfenning:
This is one of the best times we've had in the UK—maybe because so many friends are here like Amazing Baby, Yacht and Au Revoir Simone. They're all staying here in London, and we've all been hanging out.
Paste
:
Tell me about your roots back in Colorado. How did you and Caroline [Polachek] meet?
Pfenning:
I grew up like half in Oklahoma and half in Colorado. I went to college in Colorado and met Caroline in economics class. I'd sit in the back row wearing sunglasses, and she usually sat right in front of me. And I'd always borrow notes from her for the exam. The first day we met, the professor asked us who could draw the best map of the United States. And Caroline raised her hand and was like, "I can do it." And she went up drew this map of the United States that looked, to me, like a whale. And we each had to go up and identify what part of the United States we were from. So I went up and drew a mouth on the whale and then pointed to the upper teeth and said, I'm from the Bay area—which was a total fabrication. But I guess she found me interesting, and I really liked her. And we swapped CDs. She was in a band at that time, and I was just doing my own stuff. I invited her over a couple times and we played a little bit. Then I decided I wanted us to record an EP in California at Elliott Smith's old studio called New Monkey. So Caroline and I over Spring Break 2006 went to L.A. and recorded the beginning songs of what would be Chairlift. That was the beginning of the band really, when we started writing together. And Patrick joined the band after Caroline and I moved to New York.
Paste
:
Why'd you move to New York? Was there something about the music scene in Brooklyn that attracted you?
Pfenning:
It was more that I just always knew it was coming. I was raised in the Midwest all my life. Before I even met Caroline I knew I just needed to move to New York. And then Caroline got into art school at NYU. So I was like, "Well, this is a good time to go because I'm really into the music we're making together. I might as well just go." We just kept doing Chairlift. She was in school and I was working full-time. And then Patrick moved to New York after he graduated from Colorado. And it was really random; we ran into him on the street, and I didn't know him because I'd never met him in Colorado. But Caroline knew him, and we all went and got tacos. And then Patrick came to one of our shows. And he came up to me after and said, "I really want to be in your band." [
Laughs
] And I was like, "OK, I don't know what you would do. Maybe some percussion stuff?" "Yeah, I can do some percussion, definitely." "OK, can you come Friday?" "Yeah, I can come Friday." I went to pick him up in Midtown, and I had a really small Suburu at that time, and I was expecting him to have like some tambourines and shakers, and he walked out of this percussion store with like an entire drumkit, just full-on shit. I was like, "Oh, OK." We packed it in my car, and I was really nervous because I wasn't sure we really wanted a drummer in our band. And Caroline pulled me aside in practice, and was like, "Aaron, what are you doing? He's got like a whole drumkit here." I felt bad because he spent all this money on a drumkit and really wanted to be in the band. And then we spent some time with it and we were like, "Actually, this sounds fucking rad. He should just be the drummer."
Paste
:
So he hadn't been a drummer before that?
Pfenning:
Well, he studied percussion and vibraphone at The University of Colorado. So he had some sort-of drumming background, but hadn't really taken it up. I think we're all happy that he did.
Paste
:
You guys were briefly on Kanine Records, which also put out albums by Grizzly Bear, Mixel Pixel, Northern State. Was there a lot of community between those bands, and how have things changed from Kanine to Columbia?
Pfenning:
The first show we ever played with Patrick was Leo from Kanine—he throws these parties called Crashin' In in New York. He invited us to play one, and then he gave us a residency for like a month of parties. And after that, they offered to put out a record and put us in touch with producer Britt Myers. And it took us about nine or 10 months to make it. They put out the record, but it was a lot of work on our own. But they were like the only ones interested, so we're all so thankful they got into us so heavy. The way that we write and the way that we approach what we do with Chairlift hasn't really changed at Columbia. I think in whatever you do, it's healthy to think about the audience you're writing for, but we still only make the music that we ourselves want to hear. I've always been afraid that the album sounds like a mixtape, because we're like, "Oh, let's write this kind of song and this kind of song." We're just bored and want to take what's on our iPod and say, "Oh, let's do a song like this." But I think we're all philosophically thinking, "Do we really need to change anything now that we're on Columbia or should we just keep making the songs we personally want to hear." And I think [the latter] is what we're doing. The only real change is that we're touring more and playing a lot more outside of New York.
Paste
:
You've been touring like crazy, playing some big stages as an opening act and touring around Europe. How has that been so far?
Pfenning:
I love coming to Europe. I think all of us love coming to Europe. It's hard to be away from home in New York for so long, but the more we've been traveling, the more friends we make, so the more familiar faces we see. We'll see faces we met in Portland in like the countryside in the U.K. It's made the world smaller in a good way. We're just trying to avoid staying in, like, travel lodges.
Paste
:
A lot of people, of course, know you guys through "Bruises" in the iPod commercial. How did that affect you guys even personally, just doing what you do?
Pfenning:
When "Bruises" was essentially picked for the iPod campaign, we didn't think they were serious. It was just an email we got out of the blue. We were still on Kanine, just finishing up a tour with Ariel Pink. We were in L.A., and I think someone from Apple came to our show at the Echo. And they wrote us an email saying, "We're thinking about using your song for the Fourth Generation iPod Nano." "Yeah, yeah, I mean, I don't think it's going to happen, but OK." And then they used it. None of us really knew that like a year later we'd still be answering questions about it. [
Laughs
] But also the album came out pretty much right when the ad campaign launched. So we know a lot of attention came from the iPod ad, but hopefully some of it came because we put out an album. If the iPod ad led anyone to the album, and they were like, "Ah, there's also this 'Don't Give a Damn' country track on it," or "Wow, 'Bruises' was good, but there's one song that helped me through a lot,'" then the whole album is like the treasure. If "Bruises" helps people get there, if it's like a clue to what Chairlift really is, that'd be great. Because that song's an outlier on the album, you shouldn't really expect more of it.
Paste
:
And stylistically, it's a very diverse record—like you said before, a mixtape, playing around with different genres. Did you find places where you were happier as a band and stuff that's really stayed with you playing on the road? Or do you still love the diversity of just trying different things?
Pfenning:
Some of those songs are so old that we kept writing as a band over the course of two years, so that's probably why I think it sounds like a mixtape. I really admire artists like
R. Stevie Moore
who can just sit down and write an album with such focus and clarity about a concept and not waver on this kind of mixtape deal. That's something I really aspire to, but I don't know if it's something that will happen on this next album. We're going to try out some new songs on this upcoming tour—our first headling tour of America this September. I think we've realized the best way to try out songs is to play them live. Some of the songs were written and recorded but never played live. We'll play the new songs live and go back and record them. The idea is to go somewhere like New Mexico and get a house and record everything and maybe occasionally just throw some parties and play some live music for whoever in New Mexico. Just try them out and record everything there.
Paste
:
When do you think that might happen?
Pfenning:
Right now, February. January or February.
Paste
:
You played Bonnaroo earlier this year. How'd you enjoy the experience?
Pfenning:
We all agree on this. I was talking to Patrick and Caroline in Patrick in the cab yesterday. I asked them, "Did you guys have a really fucking great time at Bonnaroo like I did?" And they were like, "Yeah." We all think that Bonnaoo is the best show we'd ever played. There was something that lined up. We had done a lot of touring in Europe, and I think a lot of us were unhappy. And we got into the vibe down there, and something clicked within the three of us, and we were just happy to be in the band. And we stayed the whole weekend and met a bunch of new friends. We had a bunch of friends' bands come in and play—Grizzly Bear, Yeasayer, MGMT, they were all so good and it was fun to hear their new songs. I met Annie from St. Vincent—I'm super-obsessed with her. I think about Bonnaroo all the time. It was the first big, American festival that we played. We did a
Paste
thing there too—
we played in the ferris wheel
. Actually that was a big highlight. We loved doing that.
Paste
:
Well we appreciate that. That was fun. There's a frivolity in a lot of your songs like "Le Flying Saucer"—just really fun, silly lyrics. When you're writing songs, are you consciously just trying to entertain yourself and keep it fun? What's going through your head as you write?
Pfenning:
Caroline will go off and write, and I'll go off and write, and we'll each bring something back. We both have this strong gravitational pull towards David Lynch films. And something he's so tasteful and good at is combining drama—like sci-fi/thriller drama—with humor. And the timing is so right-on. So on songs like "Le Flying Saucer," we try to throw a little sci-fi humor in there. We don't try to be totally serious. We have a dark edge, I think, but there would be no life or vibrancy or any thrill to just being dark all the time. You've got to [soften] that edge with humor. That's something we're always aware of.
Paste
:
The balance between the darker stuff and the humor to lighten it up?
Pfenning:
Yeah, all my favorite bands do that well.
Paste
:
Who in particular?
Pfenning:
Radiohead, but the humor comes at strange times. Ween has always done it for me. It so funny, because I'll be listening to Ween albums and just be smiling, and then another track will come on and I'll break down in tears. Also, Ryan Adams. That's not a very Chairlift thing to say, but I've always liked Ryan Adams. At least in his live performances, he's really sincere, but knows how to engage people through humor.
Paste
:
And where do those sci-fi influences come from?
Pfenning:
Caroline and I both love reading sci-fi novels. She's reading
Necromancer
, and I just finished reading
Dune
a little bit ago, and I've kind of been meditating on that. Ever since I've known Caroline, she's talked about how she's been into sci-fi since she was little, and so have I. That's just something she and I have in common. And sci-fi fashion. [
Laughs
] She and I were walking the streets this morning trying to find the Whole Foods and kept looking into different stores around London and being like, "Oh, yeah, I like those patterns for a sci-fi Western." Anything we can find for sci-fi fashion that we could wear.
Listen to "Evident Utensil" from Chairlift's Does You Inspire You:
Listen to "Bruises" from Chairlift's Does You Inspire You:
Others Tagged With