Paul Giamatti in for Three Stooges Movie, Jim Carrey Out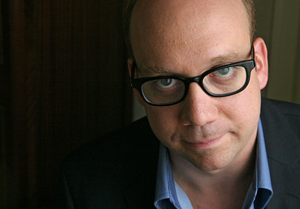 Admittedly, we've already allotted a good bit of digital ink to a film that remains stunted in the pre-production stage (10 years and counting?), but it's not just The Three Stooges we're talking about here. It is the Farrelly Brothers' Three Stooges, and their casting process looks as chaotic as, well, a true Stooges film should be.

What was first an intriguing cast nearly set in stone—Benicio Del Toro as Moe, Jim Carrey as Curly and Sean Penn as Larry—has now crumbled to a third of its size with Del Toro left standing amidst the rubble. The most recent switch will have Paul Giamatti filling Penn's shoes as the frizzy-haired Larry for MGM's scheduled 2010 release. Del Toro is still on track for the role of the drolly stern Moe.

Jim Carrey was rumored to play the bald and bumbling Curly, only he, too, decided to leave the production at the altar. Peter Farrelly has not yet disclosed his own ideas for the new Curly, but everyone "soitenly" has their own.


Review: Cold Souls
Others Tagged With