Columnist Casts Judd Apatow as Conservative Icon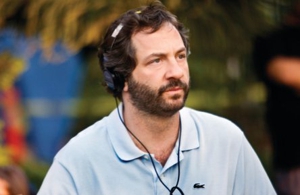 The New York Times
' nominal conservative columnist, Ross Douthat, also happens to be a film critic for the
National Review
, and he recently married his jobs with a
column about Judd Apatow
that sent the (admittedly left-leaning) community of film bloggers into a fit.
In Douthat's mind, Apatow's movies "rebrand social conservatism for a younger generation that associates it primarily with priggishness and Puritanism." Douthat is, of course, among the camp that sees
Knocked Up
at least partly as an anti-abortion parable, and he goes on to argue that
The
40-Year-Old Virgin
and especially
Funny People
espouse similar views that make a "conservative message about relationships and reproduction seem relatable, funny, down-to-earth and even sexy."
Onlookers
did not react kindly
. But even if Douthat's view of Apatow is reductive and in service of a political agenda, Apatow's films have proven a curious magnet for political commentary over the years.
Knocked Up
arguably was the most-debated mainstream movie of 2007, largely because of the abortion question.
Related links:
Others Tagged With