Polaroid Instant Film Resurrected by Fans and Urban Outfitters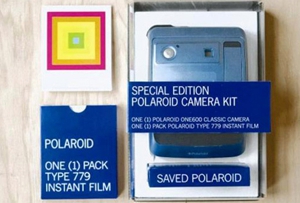 When news broke last year that Polaroid would be discontinuing their iconic line of instant-print cameras and film, there was a collective wail from would-be shutterbugs the world 'round. Dorm room walls would be palpably barer without quasi-artistic snapshots to wallpaper them, and it was looking like Talking Heads would go out as the champions of creative uses for the medium.
But all is not lost for the little film type that could. After Polaroid announced the discontinuation, ambitious fans launched
The Impossible Project
, hoping to buy up the company's Netherlands production plant. The project succeeded in acquiring all of the plants film production equipment, signed a 10-year lease on the facility and re-hired key members of the manufacturing crew.The project aims to restart production of the instant film later this year.
The Impossible Project also
partnered
with the commodification impresarios at Urban Outfitters for a super-limited, 700-unit run of the last Polaroid camera sets, slated to
go on sale tomorrow
(Aug. 28) in the U.S. and U.K. for $180.00. UO stores will carry Integral's Polaroid film after production begins in December, the projected month that existing stocks will run out.
Related links:
Others Tagged With