Ratatat's Mike Stroud Talks New Album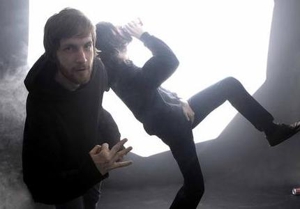 Mike Stroud is ready to unwind. It's early July, and the guitar-thrashing half of instrumental duo,
Ratatat
, has spent the past few months touring non-stop, not to mention the bulk of his morning lost on the highway in a foreign country. "We went into the wrong city for a while. I ended up on a
really
, really narrow street facing the wrong way," he says, laughing. "It was kind of a nightmare."
When Paste finally gets him on the line, though, he's drinking in the view on a yacht off the Sicilian coast, chilling out with his girlfriend and her (apparently yacht-owning) friends while his knob-twiddling partner-in-crime, Evan Mast, vacations in Paris. Perhaps this environment of supreme relaxation explains why we've caught Stroud in what feels like a time of candor. While taking a hard-earned breather from a chaotic schedule, he spilled the details on the near-completion of Ratatat's fourth LP, the duo's recent foray into hip-hop beat production and their endless globe-trotting.
Multi-instrumentalists Stroud and Mast have done their share of progressing since they formed Ratatat in 2001. While they've continued making synths cry and fusing bumping club beats with classic-rock guitar,
2008's
LP3
 saw the duo incorporate a host of cross-cultural references into their room-shaking amalgam of sound. Blog rumblings about the band's fourth album
surfaced
 last year, sparked in part by the 7" single for
LP3's 
"Shiller" that credited B-side, "Mahalo," to
LP4
.
Stroud cleared the air, explaining that
LP4
is indeed mixed and nearly finished. In fact, most of it was recorded during the same studio sessions that yielded 
LP3
. Ditching the apartment digs and keyboard-guitar-laptop setup that hatched 2004's 
Ratatat
 and 2006's 
Classics
, the two headed for the quiet town of Catskill, N.Y. to
Old Soul Studios
, an old mansion brimming with instruments both classic and obscure. This departure brought about some of the band's most inspired and mind-reeling melodies. A whole a lot of them. "I remember thinking before we went up there, 'I'll be happy if we come home with five songs,'" he recounts. "We came home with 30."
So the duo essentially cut the crop of new songs in half, chronologically, into
LP3
and
LP4
, though they've added to and tweaked both records since the upstate getaway. And while it's easy to assume that a follow-up album recorded in the same time chunk as its precursor would end up sounding like more of the same, Stroud believes there's a distinction. "...There's definitely a progression," he says. "We felt like the rest of them [for
LP4
] were better than
LP3
. So like, 
LP3
would be like a teaser to
LP4
, we thought at the time."
LP4
, Stroud says, will see Ratatat embrace even more "weird, new sounds," courtesy of the studio's arsenal of the intruments. In particular, it will feature an abundance of Japanese strings; the band has even considered touring with a string quartet. And if 
LP4
continues the duo's trend of endlessly layering, splicing and even reversing tracks, it will likely require some detective work among listeners to parse out individual sounds. But Stroud considers this a desired effect.
"For me, when I hear a record and I know exactly what's going on, you know, it's boring," he says. "Like 'Oh, that's that instrument and that's how they're playing it, and blah blah blah.' It's like not a challenge. It's always exciting for me to hear something that [makes] you stop and be like, 'Whoa, what is that?'"
Since then, in between touring across Europe, Asia and beyond, the band has arrived at a long-awaited juncture back home: the opportunity to make hip-hop beats. Specifically, the duo laid down some tracks for the forthcoming debut album of

Kid Cudi

, the Cleveland-bred MC who credits Ratatat's music as inspiration for his single

"Day 'N' Nite,"

which blazed its way up the Billboard Hot 100. "As far as the lyrics go, I picture him being a lonely stoner at night listening to fucking Ratatat on loop. I can hear that definitely," laughs Stroud, who was surprised at first to learn that Cudi had also 

sampled

 

Classics'

 "Tacobel Canon," and desired studio time with his band. He and Mast had been hip-hop fans for years and already made the two-volume

Ratatat Remixes

mixtapes, putting new spins on tracks like Kanye West's "Get 'Em High" and Notorious B.I.G.'s "Party and Bullshit." Although critics had continually pegged their break-neck rhythms and shredding guitar as prime rapping bedrock, the hip-hop community had never really responded. Until now.
But joining their beats with Cudi's rhymes wasn't as simple as shipping off an existing Ratatat track; they tailored their style to fit a very different kind of creative output, and the whole experience plucked the guys out of their element (and comfort zone). "Me and Evan are so used to just kind of recording holed up in a space, just the two of us, like

real

private," Stroud explains. "I think we're probably kind of shy about it, you know? We're just so in like a bubble. And we went into the studio with [Cudi], and there were

so

many people, and he was just like so extroverted and such a performer. It was like all these people from his label, all of his friends, everyone's like hanging out, ordering food. It was just so different than the way we do stuff."
He and Mast did arrive with pre-made tracks, but they attacked them differently than their own songs. "It makes sense to me to keep it a little more basic at first so as not to limit the hip-hop artist's melodic ideas," he says. "I feel it's more of a collaboration if you keep it more open." From there, both parties vibed back and forth, and Mast and Stroud were able to add more layers and effects after the fact.
They're excited about having their first official, major-label hip-hop release and hope this opportunity might open doors down the road, though they've got no delusions of becoming the next Neptunes. "I don't think that would ever happen. None of us are real charismatic dudes like Pharrell. But I think we're probably going to get more offers now after it comes out," says Stroud about Cudi's debut full-length,
Man on the Moon: The End of the Day
, due Sept. 15. "Kid Cudi seems to think so, too. He was like, well, he's pretty sure of himself, he's just like, 'You guys have no idea. Like, everyone's gonna be comin' at you!' I don't know if that's true, but we'll see."
But while floating on the Mediterranean, Stroud is mostly concentrating on his leisure, if only for a little while. He and Mast will soon return to the grind. "Yeah, I'm gonna get drunk now," Stroud laughs, as we finish our conversation. "I've been driving all day, flying; I feel like I've had like 30 flights in the past month. I'm trying to kick back for a minute." Fair enough.
Others Tagged With