Radiohead and Kofi Annan Join Forces for U.S. Debut of The Age Of Stupid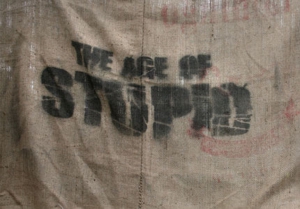 The U.S. premiere of director Franny Armstrong's eco docudrama, The Age of Stupid, will be bolstered by a unique worldwide, in-theater event on Sept. 21, including live satellite coverage of field scientists across the globe, spanning from New York, to the Himalayas and all the way to a remote, Indonesian rain forest.

The Age of Stupid LIVE from New York is hitting 444 movie theaters nationwide and begins with a viewing of the film, a dramatization that forecasts the state of life on Earth decades into the future, where warnings of climate change were ignored over the years. The story is told through a global archivist in 2055, played by Oscar-nominated Pete Postlethwaite (Usual Suspects).

A panel discussion will follow the showing, and will feature an interesting mix of world-renown scientists, political figures and celebrities, including former UN Secretary-General Kofi Annan and The X-Files' Gillian Anderson. The event will wrap up with a performance by Radiohead frontman Thom Yorke, who will be playing an acoustic version of the film's title track.

The evening's most resourceful festivity will be a live, green-carpet procession in New York's Winter Garden, where guests will breeze in via bicycle, solar car, rickshaw, sailboats (!?) and other green means of transportation.

The Age of Stupid LIVE from New York is presented by NCM Fathom and Spanner Films in high definition. It debuts Sept. 21 at 7:30 p.m. Eastern. Tickets are available at participating theaters and online at FathomEvents.com.

Related links:
Feature: GreenJeans: The Evolution of Eco-Friendly Fashion
News: David Gilmour Releases Eco-Friendly Solo Album
LOTD: Nine Eco-Friendly Garments

Got a news tip for Paste? E-mail news@pastemagazine.com.

Others Tagged With