The Libertines Hint at Reunion, New Album in 2010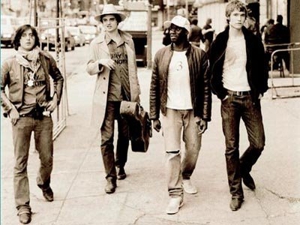 There's nothing that makes us feel quite as warm and fuzzy inside as seeing one of our old beloved bands putting aside their differences and reuniting. We got that feeling back in May when Carl Barât, Pete Doherty and Gary Powell, known collectively as The Libertines, joined together for a live show in London after the British group called in quits back in 2005. After the show, Barât told NME.com that he "wouldn't rule out" another reunion down the line. The non-commital singer also said, "Next year is a new year. We'll see what happens." But we've finally caught wind of something a bit more substantial, this time from Doherty.

In a recent interview with the London Times, Doherty reminisced about the reunion set and discussed the conversation he and Barât had had late into the night. "I think we're gonna make a record and tour," he admitted. "Get the Libertines to take it to the next step, next stage. Next year." He echoed Barât by saying that any collaborative work would most likely come after Barât had wrapped up some more solo work.

Looks like we can (maybe?) anticipate some warm fuzzies in 2010.


Related links:
Others Tagged With