The Walkmen Release Live EP, Tour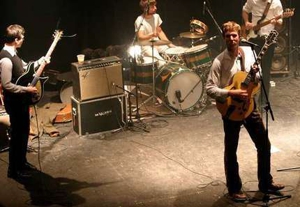 Late last summer, The Walkmen sent us You & Me, a gorgeously fuzzy postcard from tiny islands, foreign provinces, and wherever else the New-York fivesome was apparently enjoying a splendid holiday. We didn't care so much exactly where it came from, we just knew it added an umbrella to an already delicious drink. As our mailbox grew inundated with buzzworthy breakthroughs, we stashed this one safely in a desk drawer. We like to take it out whenever we're in need of mental vacation within the office walls, our feet soon tapping in agreement with its skittering drum fits, grainy guitar lines and sand-coated vocals.
About a year later, Hamilton Leithauser & Co. seem to have their feet firmly planted on U.S. soil, particularly in their home city of New York. They've been handpicked to open the Guggenheim's It Came From Brooklyn series, which, in spite of its title, is a concert series in the art museum, not a horror B-movie terrorizing your local drive-in. The band will share the Guggenheim bill with High Places, playing the museum's famous Frank Lloyd Wright-designed rotunda, followed by a Central Park SummerStage set with Dinosaur Jr. and a U.S. tour with Here We Go Magic. But we can't keep those Walkmen all to ourselves. They're taking a brief Nordic track off their Stateside course, making their Scandinavian debut with two shows in Norway and Sweden.
Before hitting the stage, though, they'll drop an iTunes
Live Session
EP on Aug. 11. The EP, recorded at New York's famed Electric Lady studio, features a nice selection from the band's four original LPs, and even a song from Hamilton Leithauser and Pete Bauer's old band, The Recoys ("Over Your Shoulder"). Sorry, no
rats
allowed. Check the EP tracklist and tour schedule below:
Tracklist:
1. We've Been Had
2. On The Water
3. Over Your Shoulder
4. All Hands And The Cook
5. 138th Street
6. In The New Year
Dates:
14
- New York, N.Y. @ The Guggenheim (with High Places)
16
- New York, N.Y. @ Central Park Summerstage (with Dinosaur Jr.) 
1
- Stockholm, Sweden @ Göta Källare
2
- Oslo, Norway @ John Dee
3
- Bergen, Norway @ Hulen
12
- Morrison, Colo. @ Red Rocks (Monolith Festival) *
18
- Cambridge, Mass. @ Middle East *
19
- Cambridge, Mass. @ Middle East *
20
- Northampton, Mass. @ Pearl Street Downstairs 
22
- Washington, D.C. @ 9:30 Club *
23
- Philadelphia, Pa. @ Theatre of the Living Arts 
25
- Atlanta, Ga.@ Variety Playhouse
26
- Asheville, N.C. @ Grey Eagle Tavern
27
- Nashville, Tenn. @ Mercy Lounge 
29
- Birmingham, Ala. @ The Bottletree
30
- New Orleans, La. @ One Eyed Jacks
2
- Austin, Tex. @ Zilker Park (Austin City Limits)
18
- San Franciso, Calif. @ Treasure Island
* with Here We Go Magic
Others Tagged With