City of Reno Tourism Agency Launches Online Campaign to Save Reno 911!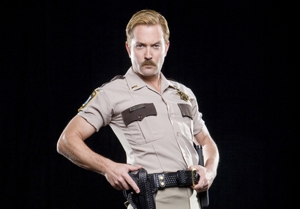 Cancellation of Comedy Central's Reno 911! has provoked one unlikely organization to step up and lead the show's revival: the city of Reno's tourism agency.

After six seasons of spoofing cop reality television, co-creator and leading cast member Thomas Lennon
announced Thursday via his Twitter account the network's decision to cancel the show
. Less than 24 hours later, the Reno-Spark Convention and Visitors Authority presented a venue in which fans can vocalize their dismay,
SaveReno911.com
.
But with the tourism agency's support comes one condition: moving production to the very city it parodies. "One thing Reno has is a sense of humor," said Ellen Oppenheim, president and CEO, in a statement. "We hope the petition results in the show getting picked up by another network, and that they film the show here instead of the non-descript valleys of southern California."
The online petition now has more than 200 signatures, and the cause's Facebook and Twitter hosts hundreds more complaints.
Kerri Kenney-Silver
, otherwise known as Deputy Trudy Wiegel, has also shown her support for the campaign, said Jill Stockton, the tourism agency's communications manager.
"It put us on the map in terms of pop culture, and it has done a good job generating a tongue-in-cheek awareness of the city," Stockton told
Paste
. "But we want to extend that challenge to the creators to bring the show and the cast home to the real, authentic Reno, to really demonstrate that it's a real, true laidback Western town. We don't take ourselves too seriously... It's part of the local charm."
Related links:
Reno 911! on Comedy Central
Thomas Lennon on Twitter
List of the Day: The 10 Best Cop Shows of the Last 10 Years
Others Tagged With