Watch David Gray's "Fugitive" Video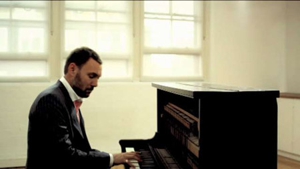 Although the supposed influence of Saddam Hussein on David Gray's new single, "Fugitive," has perhaps been blown a little out of proportion, the fact remains that the song and the album it's from, the forthcoming Draw the Line, have found the singer/songwriter in a new place, artistically speaking.

"My camera angles have been dimly lit interiors," he recently
told Paste
. "I've been in the realm of the sort of intensely personal for a few records, at least. But suddenly, that seems to have switched over again. The front door got kicked open and I'm like roving through the streets like some sort of mad-man photographer, just taking snapshots of anything and everything to feed into the music. So that's sort of how I feel about it all."
Fair enough. As you mull over that quote, take a gander at the U.S. premiere of the "Fugitive" video
here
, and if you need a little more David Gray in your Monday afternoon, there's always the two-minute "making of" featurette below:
Related links:
Catching Up With... David Gray
News: David Gray Kicks Off Presale for Draw the Line Tour
DavidGray.com
Others Tagged With