Watch the Trailer for Peter Jackson's The Lovely Bones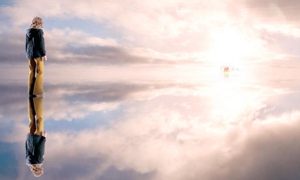 Despite the creepy "Hi, I'm the director" interlude attached to most copies, the first trailer for
The Lovely Bones
packs a lot of material into an approachable package. The book was a relentless sensation when it was published, but the movie is aptly pitched as an everyman mystery colored by the visual ferocity of director Peter Jackson, who seems to have returned from hyper-blockbuster mode on
King Kong
.
The expansive cast is made up mostly of veterans, but the girl at the center is Saoirse Ronan, who was a knockout in another high-profile literary adaptation,
Atonement
. The trailer is a little exploitative (which the movie no doubt will be, too), but the earnest beauty is hard to resist.
Watch the trailer for The Lovely Bones.
Related links:
Others Tagged With