What's Your Favorite Album of the Decade?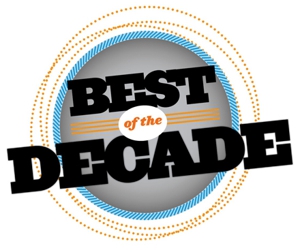 Vote for your favorite albums that came out during the 2000s. Just list one to ten albums from the beginning of 2000 to the present in the comments section below. Or you can Tweet your votes one at a time followed by the hashtag #pastealbumofthe00s. Or even visit Paste's Facebook page and vote there. Please use the "Artist, Album" format shown below and separate each entry with a line break. We've listed some notable albums, but feel free to vote for any album, whether or not it's on this list. The 2000s were a great time for music, but what album rose above the rest?

Vote for your favorite films of the decade here.

Aimee Man, Bachelor No. 2 (2000)
Aimee Mann, Lost in Space (2002)
Aimee Mann, The Forgotten Arm (2005)
Alela Diane, To Be Still (2009)
Ali Farka Toure, Savane (2006)
Alicia Keys, Songs in A Minor (2001)
Amos Lee, s/t (2005)
Amy Winehouse, Back to Black (2007)
Andrew Bird, The Mysterious Production of Eggs (2005)
Animal Collective, Merriweather Post Pavillion (2009)
Annie, Anniemal (2005)
Apollo Sunshine, s/t (2005)
Arcade Fire, Funeral (2004)
Arcade Fire, Neon Bible (2007)
Arctic Monkeys, Whatever People Say I Am That's What I'm Not (2006)
At the Drive-in, Relationship of Command (2000)
Avalanches, Since I Left You (2001)
Avett Brothers, Emotionalism (2007)
Avett Brothers, I and Love and You (2009)
Badly Drawn Boy, The Hour of Bewilderbeast (2000)
Band of Horses, Cease to Begin (2007)
Basement Jaxx, Rooty (2001)
Beachwood Sparks, Once We Were Trees (2001)
Beck, Guero (2005)
Beck, Sea Change (2002)
Beck, The Information (2006)
Beirut, Gulag Orkestar (2006)
Bjork, Medulla (2004)
Bjork, Vespertine (2001)
Black Lips, Good Bad Not Evil (2007)
Blonde Redhead, 23 (2007)
Bob Dylan, Love and Theft (2001)
Bob Dylan, Modern Times (2006)
Bon Iver, For Emma, Forever Ago (2008)
Bonnie "Prince" Billy, Lie Down in the Light (2008)
Bonnie "Prince" Billy, The Letting Go (2006)
Brian Wilson, SMiLE (2004)
Bright Eyes, I'm Wide Awake, It's Morning (2005)
Bruce Cockburn, You've Never Seen Everything (2003)
Bruce Springsteen, Magic (2007)
Bruce Springsteen, The Rising (2002)
Buddy Miller, Universal United House of Prayer (2004)
Bug, London Zoo (2008)
Burial, Untrue (2007)
Califone, Roots & Crowns (2006)
Camera Obscura, My Maudlin Career (2009)
Cannibal Ox, The Cold Vein (2001)
Cat Power, The Greatest (2006)
Cat Power, You Are Free (2003)
Clap Your Hands and Say Yeah, s/t (2005)
Clipse, Hell Hath No Fury (2006)
Coldplay, A Rush of Blood to the Head (2002)
Common, Be (2005)
Common, Like Water for Chocolate (2000)
Copeland, In Motion (2005)
Corey Harris, Downhome Sophisticate (2002)
Coup, Party Music (2001)
D'Angelo, Voodoo (2000)
Daft Punk, Discovery (2001)
Damien Rice, O (2003)
Danger Doom, The Mouse and the Mask (2005)
Danger Mouse, The Grey Album (2004)
David Gray, A New Day at Midnight (2002)
Death Cab for Cutie, Narrow Stairs (2008)
Death Cab for Cutie, Plans (2005)
Death Cab for Cutie, Transatlanticism (2003)
Decemberists, The Crane Wife (2006)
Decemberists, The Hazards of Love (2009)
Deerhunter, Microcastle (2008)
Dixie Chicks, Taking The Long Way (2006)
Dizzee Rascal, Boy in Da Corner
Drake, So Far Gone (2009)
Drive-By Truckers, Decoration Day (2003)
Dungen, Ra Der Lugnt (2005)
Earlimart, Treble & Tremble (2004)
Ed Harcourt, From Every Sphere (2003)
Eisley, Room Noises (2005)
Elvis Costello, North (2003)
Elvis Perkins in Dearland, Elvis Perkins in Dearland (2009)
Eminem, The Marshall Mathers LP (2000)
Erin McKeown, Grand (2003)
Erykah Badu, Mama's Gun (2000)
Everybodyfields, Nothing Is Okay (2007)
Feist, Let It Die (2004)
Feist, The Reminder (2007)
Field, From Here We Go Sublime (2007)
Fiona Apple, Extraordinary Machine (2005)
Flaming Lips, Yoshimi Battles The Pink Robot (2002)
Fleet Foxes, s/t (2008)
Flood City Shootout, Flood City Shootout (2000)
Fountains of Wayne, Welcome Interstate Managers (2003)
Four Tet, Rounds (2003)
Gentleman Jesse, Introducing Gentleman Jesse (2008)
Ghostface Killah, Supreme Clientele (2000)
Gillian Welch, Time (The Revelator) (2001)
Girl Talk, Feed the Animals (2008)
Go-Betweens, The Friends of Rachel Worth (2000)
Gomez, How We Operate (2006)
Gorillaz, s/t (2001)
Grizzly Bear, Veckamist (2009)
Hem, Rabbit Songs (2002)
Hold Steady, Boys and Girls in America (2006)
Hold Steady, Stay Positive (2008)
Horsepower, Folklore (2002)
Hot Chip, Made in the Dark (2008)
Ida Maria, Fortress 'Round My Heart (2008)
Iron & Wine, Our Endless Numbered Days (2004)
Iron & Wine, The Shepherd's Dog (2007)
Isolee, Wearemonster (2005)
Jay Reatard, Watch Me Fall (2009)
Jayhawks, Rainy Day Music (2003)
Jay-Z, The Blueprint (2001)
Jenny Lewis with The Watson Twins, Rabbit Fur Coat (2006)
Jens Lekman, Night Falls Over Kortedala (2007)
Jill Scott, Who Is Jill Scott? Words & Sounds Vol. 1 (2000)
Joanna Newsom, Ys (2006)
Joe Henry, Tiny Voices (2003)
Jolie Holland, Escondida (2004)
Joseph Arthur, Nuclear Daydream (2006)
Joseph Arthur, Redemption's Son (2002)
Josh Ritter, The Animal Years (2006)
Josh Ritter, The Historical Conquests of Josh Ritter (2007)
Josh Rouse, Under Cold Blue Stars (2002)
Junior Boys, Begone Dull Care (2009)
Jurassic 5, Quality Control (2000)
Kanye West, Graduation (2007)
Kanye West, Late Registration (2005)
Kanye West, The College Dropout (2004)
Kings of Leon, Because of These Times (2007)
Langhorne Slim, s/t (2008)
LCD Soundsystem, Sound of Silver (2007)
Led Zeppelin, How the West Was Won (2003)
Libertines, Up The Bracket (2003)
Lightning Bolt, Hypermagic Mountain (2005)
Loney, Dear, Loney, Noir (2007)
Long Winters, Putting the Days to Bed (2006)
Loretta Lynn, Van Lear Rose (2004)
Loretta Lynn, Van Lear Rose (2004)
Los Super Seven, Canto (2001)
Low Anthem, Oh My God Charlie Darwin (2009)
Low, The Great Destroyer (2005)
Lucinda Williams, Essence (2001)
Lucinda Williams, Little Honey (2008)
Lucinda Williams, World Without Tears (2003)
Luke Doucet, Broken and Other Rogue States (2006)
M. Ward, Post War (2006)
M. Ward, Transistor Radio (2005)
M.I.A., Arular (2005)
M.I.A., Kala (2007)
Madonna, Music (2000)
Madvillainy, Madvillain (2004)
Manu Chao, Proxima Estacion: Esperanza (2001)
Marah, Kids in Philly (2000)
Mastodon, Blood Mountain (2006)
Mates of State, Bring it Back (2006)
Mates of State, Re-Arrange Us (2008)
Mavis Staples, Have a Little Faith (2004)
Midlake, Bamnan & Silvercork (2004)
Midlake, Trials of Van Occupanther (2006)
Mika Miko, We Be Xuxa (2009)
Mindy Smith, One Moment More (2004)
Miranda Lambert, Crazy Ex-Girlfriend (2007)
Missy Elliott, Miss E…So Addictive (2001)
Modern Skirts, Catalogue of Generous Men (2005)
Modest Mouse, Good News for People Who Love Bad News (2004)
Modest Mouse, The Moon & Antarctica (2000)
Modest Mouse, We Were Dead Before the Ship Even Sank (2007)
Mugison, Mugiboogie (2008)
Mugison, Mugimama! Is the Monkey (2005)
My Morning Jacket, Evil Urges (2008)
My Morning Jacket, Z (2005)
National, Boxer (2007)
Neko Case, Blacklisted (2002)
Neko Case, Fox Confessor Brings the Flood (2006)
New Order, Get Ready (2001)
New Pornographers, Mass Romantic (2001)
Nick Cave & the Bad Seeds, Dig!!! Lazarus Dig!!! (2008)
No Age, Nouns (2008)
Norah Jones, Come Away With Me (2002)
Notwist, Neon Golden (2003)
O Brother, Where Art Thou? (2001)
Of Montreal, Skeletal Lamping (2008)
Okkervil River, The Stand Ins (2008)
OutKast, Speakerboxxx/The Love Below (2003)
OutKast, Stankonia (2000)
Over the Rhine, OHIO (2003)
Over the Rhine, The Trumpet Child (2007)
Panda Bear, Person Pitch (2007)
Passion Pit, Manners (2009)
Patty Griffin, 1000 Kisses (2002)
Patty Griffin, Children Running Through (2007)
Patty Griffin, Impossible Dream (2004)
Paul Simon, Surprise (2006)
Paul Westerberg, Folker (2004)
Pedro the Lion, Control (2002)
Pernice Brothers, The World Won't End (2001)
Pete Yorn, Nightcrawler (2006)
Phosphorescent, To Willie (2009)
PJ Harvey, Stories From the City, Stories From the Sea (2000)
Plush, Fed (2008)
Polyphonic Spree, Together We're Heavy (2004)
Primal Scream, XTRMN8R (2000)
Queens of the Stone Age, R (2000)
Queens of the Stone Age, Songs For the Deaf (2002)
Radiohead, Amnesiac (2001)
Radiohead, In Rainbows (2007)
Radiohead, Kid A (2000)
Raveonettes, Lust Lust Lust (2008)
Ray Lamontagne, Trouble (2004)
Rilo Kiley, More Adventurous (2004)
Robert Plant & Alison Krauss, Raising Sand (2007)
Rodney Crowell, Fate's Right Hand (2003)
Ron Sexsmith, Retriever (2004)
Rosie Thomas, When We Were Small (2002)
Rufus Wainwright, Poses (2001)
Rufus Wainwright, Want One (2003)
Ryan Adams & The Cardinals, Jacksonville City Nights (2005)
Ryan Adams, Demolition (2002)
Ryan Adams, Easy Tiger (2007)
Ryan Adams, Gold (2001)
Ryan Adams, Heartbreaker (2000)
Ryan Adams, Rock N Roll (2003)
Sade, Lovers Rock (2000)
Sam Roberts, We Were Born in a Flame (2004)
Santogold & Diplo, Top Ranking (2008)
She & Him, Volume 1 (2008)
Shelby Lynne, I Am Shelby Lynne (2000)
Shelby Lynne, Identity Crisis (2003)
Shins, Chutes Too Narrow (2003)
Shugo Takumaru, Exit (2008)
Sigur Rós, Med sud i eyrum vid spilum endalaust (2008)
Sigur Ros, Agaetis Byrjun (2001)
Sigur Ros, () (2003)
Sigur Ros, Takk… (2005)
Sleater-Kinney, All Hands on the Bad One (2000)
Sleater-Kinney, The Woods (2005)
Solomon Burke, Don't Give Up on Me (2002)
Sondre Lerche, Faces Down (2002)
Sonic Youth, Rather Ripped (2006)
Spoon, Gimme Fiction (2005)
Spoon, Kill the Moonlight (2002)
Steely Dan, Two Against Nature (2000)
Steve Earle, Transcendental Blues (2000)
Steven Delopoulos, Me Died Blue (2003)
Streets, Original Pirate Material (2002)
Strokes, Is This It (2001)
Sufjan Stevens, Illinois (2005)
Sun Kil Moon, April (2008)
Sun Kil Moon, Ghosts of the Great Highway (2003)
Ted Leo & the Pharmacists, Living With the Living (2007)
The White Stripes, White Blood Cells (2001)
Todd Snider, Near Truths & Hotel Rooms (2003)
Tom Waits, Blood Money and Alice (2002)
Tom Waits, Orphans: Brawlers, Bawlers & Bastards (2006)
Tom Waits, Real Gone (2004)
Travis, The Man Who (2000)
TV On The Radio, Dear Science (2008)
TV On The Radio, Return to Cookie Mountain (2006)
U2, All That You Can't Leave Behind (2000)
U2, How to Dismantle an Atomic Bomb (2004)
Vampire Weekend, Vampire Weekend (2008)
Weepies, Say I Am You (2006)
Weezer, Weezer "The Green Album" (2001)
White Stripes, Elephant (2003)
White Stripes, Icky Thump (2007)
Wilco, A Ghost is Born (2004)
Wilco, Sky Blue Sky (2007)
Wilco, Yankee Hotel Foxtrot (2002)
Wild Light, Adult Nights (2009)
Yo La Tengo, And Then Nothing Turned Itself Inside Out (2000)
Yo La Tengo, I Am Not Afraid of You and I Will Beat Your Ass (2006)
Others Tagged With