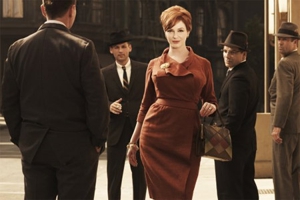 One of the most fascinating and inexplicable parts of
Mad Men
lore is how HBO famously passed on the pilot before it ended up at AMC. Instead, HBO struggled mightily to follow up
The Sopranos
with a show that pulled the cultural weight that its earlier series did, while
Mad Men
went on to sweep the Emmys and become widely referred to as the best show on television. (HBO,
arguably
, has found that series at last with
True Blood
.) How did the network pass it up?
An article on Mad Men in Vanity Fair provides an answer. Although the piece acknowledges that HBO "formally declines to discuss" its early dealings with the series, the writer posits that David Chase, the Sopranos mastermind, is to blame. HBO apparently agreed to move ahead with the series if Chase would come on board as a producer (Matthew Weiner, a sometime Sopranos writer, is the series' creator). Although Chase trumpeted the script, his reticence to become involved creatively eventually killed the series at HBO, which led several other networks to pass as well.
This explains both the absence of better sex and warring words on Mad Men and why the series took so long to make it to the air, since the initial script was completed in 2001. AMC has proven a fertile home for the series, but, of course, now there are commercial breaks and certain creative limitations.
The article has other juicy sections, like one about how Jon Hamm nearly didn't get the Don Draper part because Weiner thought he was too good looking and that Weiner was perhaps closer to leaving the show after the second season than earlier reports of "negotiating tactics" suggested. Read the article in full
here
, and continue to get irrationally excited for the show's third-season premiere on Aug. 16.
Others Tagged With