Catching Up With... Extract's Mike Judge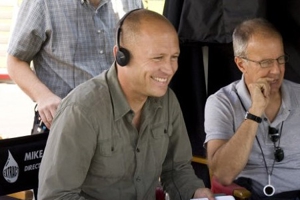 Writer/director Mike Judge, the man behind both Beavis and Butt-head and Office Space, recently caught up with Paste about his new movie Extract, which comes out today (Sept. 4). Ever the busy guy, Judge also spoke of his little-known collaboration with Oscar-winning animator Don Hertzfeldt and the idea of making a film version of another of his many creations, King of the Hill.
Paste: Extract: It's kind of an off-the-wall thing to want to center a film around.
Mike Judge: [laughs] It's a funny thing, you know. I like the way those buildings look. I like the old Butterkrust Bread factory. I just like watching the machinery go. It's fun to look at. So, I wanted to do something that was in one of those kind of places. And when I would tell people that it's about a guy who owns a factory that makes vanilla extract, they'd start laughing. I guess it's like an odd item that's there in the grocery store but you don't think about it too much. I wrote this kind of imagining a lot of it. Then I went and toured the factory. I was really pleased with how much I had gotten right. At the end of one of the assembly lines there was this woman sitting there, a kind of bossy, older woman. They introduced me and she just scowled, which was exactly what I had imagined with Mary, the character in the movie.
Paste: We all know that person.
Judge: Yeah, I've known I few of them. The place where we shot in L.A., they make flavored water. If you were going to do that guy's life story you'd get Jason Bateman to play it. The guy who started it as a business model in college and he's now about 40.
Paste: You wrote this not long after Office Space?
Judge: Yes.
Paste: Extract has more of a blue collar feel to it.
Judge: Yeah. To me there's just as many archetype characters in the blue collar world as in the cubicle world, and I wanted to do something with that and then at the same time have it be sympathetic to the boss, to the owner, instead of the other way around. Because after working so many jobs, I didn't become successful in animation until I was pushing 30. Suddenly I had 50 to 90 people working for me at any given time. And when you try to be a nice boss you get taken advantage of. I started getting sympathetic toward all my old bosses. Like, oh, okay, now I get it. To me [Extract] is a good companion piece to Office Space. I'd like to think it's a bookend.
Paste: In talking about Mary and some of the other characters, did you get the people you wanted right from the get-go?
Judge: Not from the get-go, but I'm happy with the cast. I drive casting directors crazy. I'm pretty meticulous about that. Like, on Office Space, there were some of these roles that I didn't get until the last second. You know, like the cheery waiter guy in Office Space? I drove everyone crazy cause we were looking at, literally, like a hundred people in L.A. and Austin.
Paste: You didn't get him until the last minute?
Judge: The very last minute. He was on the TV show Barney. [laughs] That's what I want. These are very specific characters. Stuff like this and Office Space lives or dies on that because it's not so much jokes; it's just about characters being funny.
Paste: One of your buddies that you do The Animation Show with, Don Hertzfeldt—it struck me today that you guys have never actually made anything together, have you?
Judge: No, no, um... If you look on his website, he did a pretty funny thing. It's probably the closest thing to a collaboration. It's really hard to find. It's on his page where he has this random stuff everywhere. You click on the word "Botany" and "Botany 2." Believe it or not, there's an action figure made of my character that I did in Spy Kids. And I took a bunch of weird pictures of it with my venus flyTrap I had at the time. Then he took more pictures and he did this crazy, like…uh, you kind of have to see it. Starting out it was going to be a live webcam on my venus flytrap, with my action figure—almost like a comic strip. I think it's pretty funny. Everyone I show it to likes it.
Paste: A King of the Hill film: Has that ever been talked about?
Judge: It may have been talked about but I don't think that will ever happen. It was discussed for a while. I think there's something about King of the Hill. I think some things make sense for a movie. I think The Simpsons made sense for a movie. I mean, obviously it made a lot of dollars and cents. It's kind of like, would you make a Seinfeld movie? Would you make an Andy Griffith movie? I don't know. Maybe someday someone will figure out something. It just didn't seem right to me. Maybe down the road something will pop.
Paste: I love the show, but I thought it wouldn't last because the rest of the country [beyond Texas] is not going to get this. Shows you how wrong I was.
Judge: When I was playing as a musician on the road, you realize anywhere where there are white guys and engines and stuff there's a similar vibe. Whether it's Iowa or even the far suburbs of San Francisco, you have truck drivers and propane and things that are kind of similar.
Others Tagged With