Catching Up With... It's Always Sunny in Philadelphia's Glenn Howerton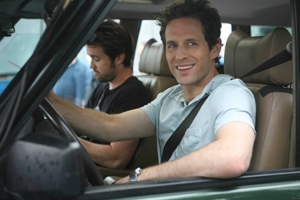 The fifth season of
It's Always Sunny in Philadelphia
kicks off tonight (Sept. 17) on FX at 10 p.m. EST. And as you read this, the Gang is amidst a
national stage tour
of "The Nightman Cometh", the cult-classic rock opera spoof from the Season Four finale. In this flurry of activity,
Paste
recently caught up with the unflappable star and co-creator Glenn Howerton (Dennis) where, from the comfort of his back porch in Venice, Calif., he gave us the inside scoop on the show's creative process, what to look forward to in Season Five, and the unlikely success story behind "Nightman."
Paste: How did the live tour of "The Nightman Cometh" happen?
Howerton: We've got a buddy who is a musician in New York, Don McClosky. He was coming to do a few shows in L.A., and he had just seen "The Nightman Cometh." He thought it was hilarious, and he wanted to know if we wanted to come on stage with him at some point, and we could do some of the songs. So we agreed, just as a lark. Once the venue knew we were doing this, they started advertising it as "It's Always Sunny In Philadelphia, Live!" The tickets sold out in about 15 seconds. So we thought, "Oh, shit." Then they asked us to add a second show, so we did. We started thinking, we can't just go out there and only perform a couple songs; that'd be really disappointing to people. And that led to us thinking, "Well, shit, let's see if we can stage the entire musical or episode of that show, with costumes and everything." We performed it, and people went apeshit; it shocked all of us. Then Live Nation approached us about doing a live tour, and we decided to go for it.
Paste: I remember when we put the news item up for tickets going on sale for it, they all sold out in about half an hour.
Howerton: The whole tour is sold out. We knew that people were fans of the show, but we had never seen it in such a palpable way. It's really gratifying, I'm not gonna lie. When we did that first show, it was the most insane and heady thing I had ever experienced. Certainly as someone who performs, but even as a fan I've never been to something that crazy. You would have thought it was fucking U2 playing. People were screaming, we couldn't even get the dialogue or songs out. The only songs they didn't sing all the way through were the songs we added to the live show. I think we spent the first performance almost completely in shock, and we were maybe a little more prepared the second night, even embraced it a little bit.
Paste: With your show, and especially The Nightman Cometh, there's a lot of what you might call in-jokes for theatre buffs. Were you all theatre geeks in your own time?
Howerton: Theatre geeks? That's a loaded phrase [laughs]. We've all done theatre. I guess we have what you'd call a strong stage background, and even a strong music background. Charlie's parents were teachers, and he was a musician. He plays the guitar and piano.
Paste: One of the trends in television these days is that shows are moving towards bigger ensemble casts, while you guys kept the focus on five core characters. What's the reasoning behind that?
Howerton: We rarely have continuing storylines. We've never been against it, and for the last two seasons we've talked about adding more characters. But it's a tough thing to pull off. Our motto from the beginning was always "the only reason these people are friends with each other is because no one else will." [laughs] And that's a really funny concept. It's not that they want to be friends; they're stuck with each other. The episodes are mostly self-contained and episodic, and usually we've destroyed our relationship with each new character before the end of the episode. We have recurring characters, and they're essential just to keep the show a little bit realistic and grounded.
Paste: Are the McPoyle's going to be making a comeback in Season Five?
Howerton: No, actually, I don't think we've had them on the show since Season Three. We certainly want to have them back, but part of the reason we haven't is those guys are busy, they actually work quite a bit. I love those characters. We all do. I'm almost more proud of those characters than anything else we've created.
Paste: And Green Man?
Howerton: Yes, he'll be back this year. We're doing a really great episode right now, I think it's called "The World Series Defense." We're flashing back to the World Series last year, the beginning of the episode is us in a court room, and I'm being called up to the front of the court because I'm contesting a series of parking tickets I got. And I go on to say that I should be excused from them, and I tell the story why, and it flashes back and begins with us having tickets to game five of the World Series. It's a really great episode. I'm pretty excited about it.
Paste: Is that gonna be a high-concept episode, like "The Gang Cracks the Liberty Bell"?
Howerton: Not as big as that. The only thing that's high-concept about it is the fact that it jumps back and forth in time. But I tell you what: we had been wanting to do that 1776 episode for a while, and I'm glad we cracked the code on that. But yeah, Green Man will be making an appearance in the World Series episode.
Paste: Are you going to do any more episodes like the Liberty Bell one?
Howerton: We're not opposed to it, we've talked about it. Yeah, possibly next year in Season Six, where we'd have a 15-year high school reunion and flash back to all of us in high school. It's a very simple idea that's been done a million times, but I feel like it'd be great with these characters. Seeing us all clean-shaven, with various different hairdos, interacting with different kids in high school. Something really fun that's happening this year is the Christmas DVD we're releasing in November, where you'll see all of us as kids. Wendy O'Brien, our casting director, did an extraordinary job. We found kids who look exactly like us. We've always conceptualized doing an episode that's literally just us as kids.
Paste: Like the Little Rascals.
Howerton: [laughs] Yeah. We'd like to do that high-concept stuff and see if we can get away from it. And we also like to do simpler episodes. This year, we're doing one where Mac and Dennis decide to split up as roommates. It turns into this weird, divorce-type scenario. A small, self-contained idea where the gang just bounces off of each other, which I love. Those aren't always the most popular episodes, cause there's not any cars blowing up or other crazy shit. People tend to love the Gas Crisis-style episodes. Great catchphrases, things exploding, insane stuff like that. It's fun for us to do a mix.
Paste: How do you strike a balance between the catchphrase episode, and the set-piece episode, or the concept-driven episode?
Howerton: It's a very conscious decision in the writing process to do some episodes that are bigger set-piece episodes versus a couple of simpler episodes. That's fun for us, it's easier to come with a mix for than draw up either 13 big-picture episodes or 13 simple stories. We never know which episodes are going to be a big hit, or people are going to go crazy over. Any sort of catchphrase that comes out of the show always catches me by surprise. We didn't have any idea that people were gonna think "wildcard bitches" was so funny. The first Day Man episode, I hate saying this, but we didn't even like that episode at first. We pushed the editing on that episode back to the end of Season Three because we didn't even want to deal with it. We thought it was terrible. Now, once we actually sat down and worked on it, we thought it was all right. We just didn't have any fucking idea how nuts people were going to go over that song.
Paste: What else are you hitting on this season that you can give us a sneak peak of?
Howerton: Well, we're doing a really great one on the idea of self-promotion. People have seen promos of this one: It's the "Kitten Mittens" one. It's a simple concept. The Gang decides that they should start selling merchandise in the bar. So that episode really becomes about figuring who the buyers are and what they want. I guess it's not really a topical thing, but it goes along with what we were talking about: Why would these people who work at this small little dive bar think that anyone would have any interest in their merch? To me, that's such a vain way of making money. In another episode, the gang puts on a big WWF wrestling match for the troops; we feel like that's a very all-American sport. We're trying to hearken back to the old-school Hulk Hogan days, where a big part of wrestling was about displaying a certain amount of patriotism, the showmanship.
Paste: So the rumors about "Rowdy" Roddy Piper are true?
Howerton: Yep, he's in that episode. That dude is awesome. One of the greatest days of my life, meeting that man. Let's see, what else... We're going to be dealing with the mortgage crisis in one episode, and just dealing with the recession in general in another. We've got some good topical stuff. One of my favorite shows on TV right now is AMC's Intervention, so we're doing an episode where Danny's character gets completely out of control with drugs and alcohol, and we decide we need to hold an intervention for him. And as the episode progresses, we start throwing all kinds of interventions for each other. I'm so excited, I really think this might be our best season.
Others Tagged With