Catching Up With... Yo La Tengo's Ira Kaplan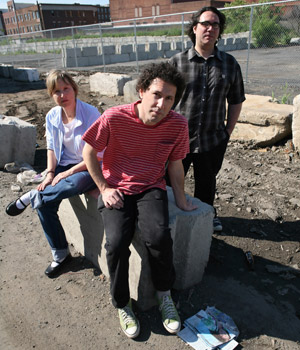 Yo La Tengo is somehow already in the midst of its 25th year as a band, and has retained its gift for songcraft far better than most anyone who hits that milestone. The Hoboken, N.J., trio's Popular Songs features 12 originals (and no Sean Kingston covers) that begin with a taste of Serge Gainsbourg-style strings on "Here to Fall," and wrap with three sprawling tracks showcasing their trademark artful noodling and ambience. Reached at a cozy vacation spot in Montauk, Long Island, singer-guitarist Ira Kaplan waxed slightly nostalgic about the highs (getting props from Lou Reed) and lows (inadvertently recording a track with George Bush) of the YLT experience.
Paste: Have "popular songs" as we know them become obsolete?
Ira Kaplan: I love this question. There are a lot of reasons that the title appealed to us. I'm not sure we've even thought about the reasons it seems to resonate. A lot of times we just do something that seems right without trying to delve too deeply into why it seems right. I think that's a question for 2009. I remember being in a cab in England, and hearing the cab driver, who was quite a bit older than we are, listening to pop radio. There was a presenter who was very appealing to listen to and the things he was saying in between songs were very entertaining, but the music that came on, it was just the hits of the day. I was thinking at the time that that's what happens when there are still only a limited number of radio stations. It was the case in England. Everybody, all the generations, are going to be listening to the same music. That was the experience I had growing up. Obviously, not the experience anymore.
Paste: The mangled cassette on the album cover hints at that bygone era?
Kaplan: We just loved the image of the cassette [in Dario Robleto's At War With the Entropy of Nature/Ghosts Don't Always Want to Come Back] so much that we used it, even though it was a little more explicit than we had intended it to be. We liked this ground up bone turned into this outdated music format. It just seemed to go with the title Popular Songs.

Paste: A busted-up MP3 would have been difficult.
Kaplan: Scientists are hard at work at that.


Paste: Why did you decide to close the album with three awesomely-long songs adding up to more than 36 minutes?
Kaplan: Well, it just kinda seemed to fit together in our mind. I don't think it's coincidental that we haven't done it before. The last record had three long songs, but they were spread throughout the record. There was just something about just watching it all explode at the end. It did seem to flow to us. It goes into questions of pacing. We thought that "More Stars Than There Are In Heaven" seemed like a culmination of things. Then "The Fireside" seemed like a coda, and then all hell breaks loose.


Paste: When you opened for Wilco at Coney Island's Keyspan Park in Brooklyn this summer, some of the "dad rock" fans were complaining about the droning.
Kaplan: I'm sure that a baseball stadium isn't the optimum place to be introduced to music you haven't heard before. Perhaps if those people had the record they might respond differently. Or not. It was a great experience. Running in and out of the dugout, I guess we didn't quite run, to access our stage was a pretty hilarious feeling.

Paste: What does 25 years of Yo La Tengo mean to you?
Kaplan: I feel good about it. We're not anxious to make a gigantic deal about it. If we wanted that secret, I think we might have had some ability to make it a secret. I think some of the things we've done, like the Hanukkah shows, like the [New York independent radio station] WFMU appearances during their marathon, I think that certain aspects of tradition appeal to us. The idea of noting that it's 25 years...it's a long time.

Paste: How many times do you think you've been to [Hoboken, N.J., venue] Maxwell's?
Kaplan: Oh man, I could not... Well, let's see, 25 years, that goes back to a period when I was still working there. So at that point, it wasn't quite a seven-night-a-week venue the way it was now. But even then it was three or four nights a week when I was working. That's something that I've never thought of counting. Things like how many records you have, and how many movies have you seen, those are lists that lots of people keep at certain points in their lives. I never counted, I never tabulated how many times I'd gone to Maxwell's. I'd given up my concert list by the time I started going.

Paste: What's the story behind the song Yo La Tengo wrote for a NASCAR ad?
Kaplan: When we were asked to do it, we figured, why not? Actually, we found out why not. We had accepted it, and they sent us the mock-up of the ad to inspire us or just to know what we were dealing with. I watched it and then suggested to Georgia that maybe she should watch it. She was watching it on her computer, and I was listening without watching. I realized only then that the voice at the end of the commercial saying, "Gentlemen, start your engines," was George Bush. That was pretty upsetting. We've collaborated with a lot of people over the years, but he was never on our wish list. I spoke to the person at Matador who was the intermediary, and he said they hadn't cleared George Bush's participation yet. They ultimately didn't clear his participation, and as far as we know they never showed the commercial. It was a crazy experience. I think most NASCAR fans when they think music, they tend to gravitate towards us.

Paste: Speaking of the wish list, do you know Lou Reed?
Kaplan: I don't know him well. Actually, a year ago, two South By Southwests ago, we were down there and he was the keynote speaker. There was an event in which people would perform his songs that we participated in. We did "I Heard Her Call My Name" and "She's My Best Friend." He was there and it was obvious. While we were playing, I really concentrated on not looking around. I tend not to do it anyway, but I really knew that looking around was gonna be a disaster. If he was watching us, it would really throw me. If he wasn't watching, that would suck. I did what I do, and we finished. We had three shows that day so we just packed everything up and were ready to leave as soon as we had to. He came up to us and said how much he enjoyed it and complimented my guitar solo, and I was like, "Wow, thank you." Nice encounter.

Paste: What are your best and worst tour pairings from the past 25 years?
Kaplan: The worst would be a show, not a tour, to really plumb the depths. We did a show once in Madison, Wisconsin, with [coffee shop folk act] Disappear Fear. That was really pretty bad. If I remember the story right, the guy who was promoting our show had flaked out. We were in danger of losing our show. Another promoter in town was willing to add us to a Disappear Fear show. Put those two together. It was just not fun for anybody, playing with a band that we have nothing to do with. It could be fun, but this night it wasn't. That's all I remember of it. Among the best, it's hard to top the Johnny Cash shows. That was '94, I guess. He had put out the first American Recordings record. This isn't my story, this is James'; we did three shows with him. At some point James looked in the wings and there were Johnny and June watching us, and holding onto his bass was not too easy.
Paste: When are Condo Fucks fans across the country gonna get their fix?
Kaplan: We've done a couple of shows. We've done two since the record came out. We did one in New Orleans and we did one in Boston. It's really fun to do. I'm sure we'll do it again. It's just wanting to make it special. We just want to find the right time. They're fun shows to do, for sure. Somebody was trying to get us to come and do that after a show in Durham. We had to say that's not going to happen. That's not the way we unwind after a long show. I'm sure there'll be a moment for it somewhere.
Others Tagged With