Dystopian Epic Mickey Video Game in the Works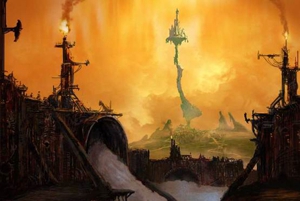 [Above: concept art for Epic Mickey via Gary Glover]
Last year, the gaming website Gamasutra
teased
at a possible "steampunk" video game-treatment of classic Disney characters, codenamed
Epic Mickey (think Kingdom Hearts, but with mechanized-scorpion Country Bears.) Although the game has yet to be officially announced, it's all but confirmed that production is underway.
The project is being steered by Warren Spector, a designer behind the legendary video game
Deus Ex
, and will likely be on the Wii.
Check out the rest of the game's mildly disturbing concept art at
Kotaku
. There's no other news yet about this project, but there are plenty of rumblings that the
October issue of
Game Informer
will feature an in-depth exposé on the game. Stay tuned.
Related links:
Others Tagged With