Getting to Know... Megafaun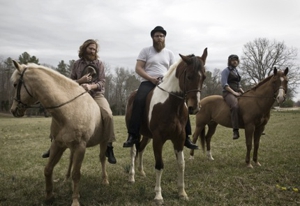 Before North Carolina-via-Wisconsin freakfolkers Megafaun struck out on their own a few years back, brothers Brad and Phil Cook and friend Joe Westerlund backed up Bon Iver's Justin Vernon in the band DeYarmond Edison. But now that Vernon and his old gang have amicably gone their separate ways, we all get twice as much great music: In late July, Megafaun released their sophomore LP Gather, Form & Fly on little-label-that-could Hometapes. On the record—and especially live—the innovative up-and-comers dust off ancient-sounding Appalachian roots music, mix it with Woodstock-era Crosby, Stills, Nash & Young-style harmonies, and then beam it all to some deep-space satellite before letting it settle back to Earth. The band will rejoin Bon Iver for a seven-date reunion tour of sorts beginning this Saturday in Omaha, Neb.

A few weeks after catching Megafaun's surprisingly intense live performance at The Earl in Atlanta, Paste had a chance to speak with bassist and multi-instrumentalist Brad Cook about the DeYarmond Edison split and upcoming tour with Vernon, the band's most recent record, its epic three-part-harmony blend and much more.
Paste:
You just released your second record,
Gather, Form & Fly
, about a month-and-a-half ago—tell me about the sessions. How was this different than making the first record, as far as where you guys were as a band?
Brad Cook:
With the first record, I think we were going through a pretty reactionary phase. We had kind of stopped playing. You know, Justin had been with us forever, and we'd kind of always just been a backup band. None of us had ever written songs before. Joey [Westerlund] had done a few compositions for college, but none of us had ever tried to write lyrics or sing. So last time, I think we really treated recording as a way to discover things we were capable of doing, and things we'd like to ideally do in the future. We put stock in it as something to have, as a jumping-off point for our identity, but with this new album, we've toured for almost two years and really learned how to be a band during that time. So we really started to focus on how to write better songs, not so much just figuring out what we want to accomplish or setting the groundwork, but I felt like we were more specifically able to hone in on what we were trying to do—the marriage of some of the elements we really enjoy in performing and listening to music, and just trying to write better lyrics, more concise statements.
Paste:
I caught you guys live when you were in Atlanta a few weeks ago. You really rock pretty hard live even though you're playing mostly acoustic instruments, but the album is more laid-back.
Cook:
When we recorded, we were writing a lot of these songs—we wrote all but two in the studio, on the fly more or less, and we didn't anticipate some of the songs having the energy they have live. Once we learned how to play them, that's the thing about touring that we get really excited about—having all these new songs we really start to understand their identity, and our relationship with them in a live setting. Some songs feel like they need to be toned down a bit live or amped up a bit. The song "The Process"—on the album, when we recorded it, it felt more like a percussion exercise, but live it's become this really important song to involve people, and to me it feels like the ballsiest song we play live right now, which I didn't anticipate when we recorded it. I think our live show—you know, we toured with Akron/Family for 60 shows, and I think the energy and the performance those guys have is the one thing we really learned from and took from them, just trying to develop that confidence in performance, and not being shy onstage. You know, we're not necessarily the most secure dudes all the time, but I think just feeling confident to be on the stage, and excited to be there and letting people see that side of it, and not feeling shy [makes a difference].
Paste:
Another thing I noticed when I saw you live is that your harmonies sound so tight and worked-out. I'm guessing you spend a lot of time working on them. How does the band approach harmony singing and coming up with those parts?
Cook:
That's been our favorite process so far. It's interesting for us because we all take the melody, we all take the awkward middle harmony and we all take the high stuff. We sing a ton in the car. Harmony is the one thing where we feel like—you know, Phil and I are brothers and our musical identities are so closely connected, especially with Joe, since we've been playing with him forever. We wanted vocals to be a big part of this band, so we spend so much time on them. It didn't come natural at all. We've had full days, eight-hour drives, where we have the acoustic guitar and the banjo and Joe's driving and we're just working on harmonies and trying to sing.
Paste:
There are a few bands that are trying to do a similar thing with vocal harmonies now, but it mostly reminded me of old Crosby, Stills & Nash stuff. Are you guys into that at all?
Cook:
Oh, God, yes. I think all those '60s bands. The Byrds are another huge one. The Band, The Byrds and CSN are three massive influences on us.
Paste:
You just mentioned singing with your brother—I remember talking to Charlie Louvin a while back about singing with his brother, Ira, about this special bond brothers have when they sing. How do you feel the two of you being brothers affects the way you sing together?
Cook:
It's crazy. There are times where our voices are so similar, our parents have hard time telling them apart when we're singing. I think there's something special about it because there are so many great, old—especially the Stanley Brothers and the Louvins, and it was such an amazing part of that tradition, you know, family singing. I think there is an added quality of the way the voice vibrates, the way you intonate things—Phil and I really feel that together when we sing. And with Joe, too, he's basically been our third brother—he's been our best friend for 13 years, since we were 15 and young, confused kids or whatever. So we've gone through these major, formative years of our lives together, to where it feels like really our voices have changed together. Even though we haven't been singing together that long, it's just our ability to understand each other and know each other's internal meter and voice.
Paste:
With Joe, watching him play is really amazing. What do you like most about the way he plays drums?
Cook:
He's so thoughtful about every note he plays. Sometimes in contemporary music, people don't put as much creativity into the sound and the palette they're working with on drums. And I think, for him, he's really sensitive about not constantly repeating himself, and that he's being as lyrical and thoughtful about his contribution as he can, which is important because half the time we don't have a bass. I think Joe built his drum set to have the timbre weight of the guitar and banjo—he didn't want a huge kick drum, he didn't want a lot of these bigger sounds over a guitar and banjo. So, yeah, my favorite part about playing with him is that he thinks about every stick hit, every bell, every cymbal hit—everything.
Paste:
There are so many textures going on there.
Cook:
Definitely. He uses a lot of treatments. I don't know how visible that stuff is sometimes, but he's got various rags and cloths, things to his drums that he puts on the heads. Even song to song, a snare head could have four different treatments throughout it, and just sound very different over the course of a song.
Paste:
You guys relocated from Wisconsin to North Carolina a couple years back—how do you think being from Wisconsin and being based in North Carolina now affects the music you're making?
Cook:
I think we've been able to develop in an un-influenced way. Back in Eau Claire, we played for so long just by ourselves, and we had a pretty strong rehearsal and work ethic, but it was hard to buy into trends or feel like you were part of anything outside of what your own imagination would allow. On one hand, it allowed us to keep getting better because we didn't really know what we were trying to do, but we could keep working all the time. But when we came to North Carolina, that gave us some context finally. We were starting to see a lot of other bands, touring bands, and were in a place where it was easier to tour from, so you start putting yourselves out there in different environments, and I think that now we're able to fine-tune things more. It was a great transition between the two locations—for some reason, they complemented each other very well. Eau Claire has a pretty thriving art community, and the musicians were really skilled—the University of Eau Claire's jazz ensemble has been
Downbeat
magazine's top public-university jazz school several times in the last decade. So there's always been a lot of emphasis on musicianship there, so it was fun to develop that and then come out here and apply it, and take things from The Avett Brothers, and take things from all the old Appalachian people from 100 years ago.
Paste:
I was wondering, because of a lot of the instrumentation you use, if you felt a kinship to those Appalachian roots.
Cook:
Oh, yeah. That's something we're totally fascinated by. It's so remarkable how easy it is to immerse yourself in that resource down here.
Paste:
You mentioned your old band DeYarmond Edison earlier, and that you used to play with Justin Vernon of Bon Iver. What was it like for you guys when he started having a bit of success last year, and you guys were still struggling at that point?
Cook:
At first, it was weird because Justin really is the fourth brother, and he'll always be. We're about to go on tour with those guys next month, and I'm sure we'll do some stuff together [live]. Before the whole thing exploded, two years ago Justin played some of his first shows with us—it was Bon Iver/Megafaun. It's weird because when we broke up, he had so much going on in his head at the time. It wasn't so much about a musical chemistry not happening, it was about Justin needing to be in a different place. He was just in a dark place. But [the split] ended up being a good thing because, in the end, Phil and Joe and I were really finding a similar—you've seen the two shows, I'm sure. Justin's thing is very serious, but he's a lighthearted guy—he's one of the funniest dudes I know. But we had different things we were ultimately seeking, and, in the end, I think we both got the best of both worlds out of it. Our relationship is as strong as it's ever been. It was little weird for maybe a few months because he had taken himself out of some equations. It wasn't that it ever got that bad, we just had to kind of rebuild the friendship and reassess some new dynamics. When his success initially happened, it was hard not to take that personally, like "Whoa, were we the ones holding him back? Shit." But what he put out there was something so many people could relate to, and to be honest with you, the way people are responding to that album now, all over the world, is the way people in Eau Claire have been responding to the music he's written since he was in high school. You know, it's always had that effect on people. It's so guttural, and comes from such an honest and raw place with him, and I think that's what people relate to so much—his presence and the way he puts himself out there. But it doesn't feel competitive at all. At this point, it's inspiring in a way. It's cool to see your best friend out there, doing something that you know exactly how honest and real it is, and seeing so many people buy into it. It reaffirms the fact that good music can exist without commercial bullshit. It's cool to see how he didn't compromise any of his artistic vision, and it's cool to see people responding to Megafaun now. And we haven't really changed our vision either.
Listen to "The Fade" from Megafaun's Gather, Form & Fly:
Others Tagged With