Holopaw Announces New Album, Offers MP3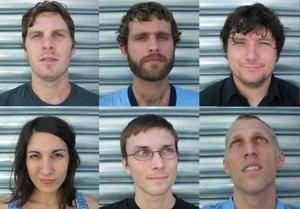 Holopaw wants you to feel something.

What band doesn't, really? But this Gainesville, Fla. collective doesn't aim for emotional impact with sappy lyrics or swelling strings—it's the tiny touches, the soft details that make Holopaw's music so real you can almost touch it. The band's third album, Oh, Glory. Oh, Wilderness., doesn't drop until Nov. 3 on Bakery Outlet, but you don't have to wait that long for Holopaw's gorgeous, shivering meditations to wash you away—we've got a download of first single "The Art Teacher and the Little Stallion" right here.

If you're yet to hear of Holopaw, you've certainly heard of the good company the band's kept. Singer and songwriter John Orth has worked with Isaac Brock in
Ugly Casanova
, and Holopaw has been bedfellows on the road with Iron and Wine, Band of Horses and Brock's Modest Mouse.
That tour pedigree speaks strongly to Holopaw's music—the simple melodies and isolation of Sam Beam meet the sprawling musical landscapes of Band of Horses somewhere just outside where Devendra Banhart's touching folk and Shearwater's chilly meditations must reside. Sorry, though, Brock's wild yelping doesn't come out to play; Holopaw's is a quiet melancholy.
The band laid down
Oh, Glory
over the last year in New York with Jeremy Scott; it's Holopaw's first work for Bakery Outlet after a two-record run with
Sub Pop
. This time out, the band's added trumpet, pedal steel, organ, accordion, cello, clavinet and pianet to its intimate sound without losing the sense that the music is best enjoyed somewhere small and dimly lit, where there's only room for the music and you.
Tracklist:
1. The Art Teacher and the Little Stallion
2. Black Lacquered Shame
3. Boys on Motorbikes
4. Cherry Glow
5. The Conductor and the Hobbyist (Avalanche)
6. The Last Transmission (Honeybee)
7. The Lazy Matador
8. Little Stallion with a Glass Jaw
9. Oh, Glory
10. P-a-l-o-m-i-n-e
11. Snow-packed Hush
Related links:
Feature: The Next American Music
Ugly Casanova on Sub Pop
Others Tagged With