Don't Fake the Folk: A Q&A With Conor Oberst, Jim James, M. Ward and Mike Mogis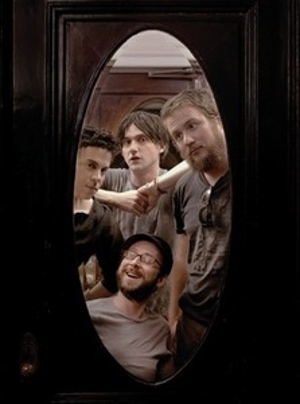 In 2004, Conor Oberst, M. Ward and My Morning Jacket frontman Jim James opened a string of East Coast dates for Oberst's band Bright Eyes. Billed as "An Evening of Solo and Collaborative Performances," the three—who'd met at shows over the years—took turns playing acoustic songs, accompanying each other in a songwriters-in-the-round fashion. The three emerging indie icons had so much fun that they decided to make a record, but—given their busy schedules—it took five years for the project they, at first jokingly, called the "Monsters of Folk" to come to fruition.
In the time since that first tour, Oberst, Ward and James have all appeared independently on the cover of Paste—Oberst for Bright Eyes, James with MMJ, and Ward with Zooey Deschanel for their She & Him collaboration—and have become some of the most respected songwriters working today. Rounding out the Monsters of Folk on their eponymous debut is engineer/multi-instrumentalist Mike Mogis, who'd worked with Oberst and Ward in the past, and who—though he has less name recognition—is as integral to this modern-day supergroup as any of its more well-known members.
This summer, Paste met the Monsters for an early-evening conversation in their elegant suite at the Lafayette House in New York's Bowery neighborhood to discuss the making of the band's new album, an experience James likened to "summer camp."
Paste: This record is all over the map, stylistically—you've got snatches of R&B, country, rock'n'roll, stringband music, electro-folk and more coming through. Do you feel like there are no rules for this project? What do you think makes it cohesive as Monsters of Folk?
Jim James: The only rule was that the four of us play everything on the record. So we played all the drums, all the bass—we didn't hire any outside musicians. Conor Oberst: And we all sing on nearly every song, even if it's just backup. M. Ward: That was a fun part of process—layering the vocals; finding common ground between vocals. Mike Mogis: That's one of the standout features of the record. The songwriting is great, as well, but the sheer sonics of hearing these three people sing together... Oberst: It's that old folk sound. [laughter] James: It's just like Peter, Paul and what's his face. [laughter]
Paste: Through the recording of the album, what moments stand out for you?
Ward: We played in one of the most insane thunderstorms I'd ever seen in my life. Do you remember that? We ran away to [Mike's] house for shelter. Mogis: Oh, I remember that—'cause there was no basement in the guesthouse. Oberst: It was a big summer storm in Omaha, and Matt [Ward] isn't used to that kind of thing. Ward: I was frightened. [laughter] But we got through it. James: We drew him a bubble bath. Oberst: I had a lot of fun at the middle session we did in Malibu. Jim and I were sharing our friend's painting studio. My friend has a house in Malibu, with a little painting studio behind it, and they were very nice to offer us to stay. And it was May, but it was just really… James: It was like 60 below. Ward: Basically, they were staying in a garden shed. Oberst: We're in there in our sleeping bags on these air mattresses with little space heaters, giggling… James: Like, "Are we gonna die? Are we gonna make it through the night? Should we leave?" Oberst: And then these two were staying at some mansion. Ward: A mansion on a hill. Mogis: You could see the ocean in the distance. Ward: So they come over in the middle of the night... Oberst: And we're like, "Can we sleep on the floor?" [laughter] Those were good times. James: Memories were created. Ward: Bonds were formed.
Paste: The name Monsters of Folk is pretty funny. Do you feel like it's almost to say, "Don't take us so seriously?"
Oberst: [The name] was kind of a running gag when we did the first tour. And in that five-year period between the tour and recording the album, we'd talk about making a record, and we'd always refer to it as the "Monsters" record. And by the time it became a reality, we thought, "OK, we should get a real name." And we tried to think of one, but then we were like, "Why are we thinking of [new names]… that's our name." It seemed disingenuous to call it something else. Because the only reason we'd be calling it something else would be because we were worried about what people would think, and that's just a stupid thing to worry about. And, really, when you think about it, band names are so ridiculous. I mean, I can't think of a good band name. Ward: I like Led Zeppelin. That's the only good band name.
Paste: When you all get together to make music, do certain strengths and weaknesses emerge for each of you? Do you see different aspects of your personalities come out?
Ward: Hmm. Can't think of any weaknesses. [laughter] Mogis: One of the more obvious strengths is Jim's vocal harmonies. That's a sound of this record—it's a part of most, if not all, the songs. And Matt helped the songs—gave them space and arrangements. Ward: All of us really did everything. It's hard to explain in an interview how that's possible, but that is exactly what happened. Oberst: Like [Jim] said earlier, it was truly a learning experience for me and everyone—I feel like I can speak for you guys now. We all respect what we each do individually with our own records. And to have a chance to see that up close and personal—how someone thinks in the studio—and to get to peek behind the curtain and see their approach… the elements Matt wants brought to the forefront of the mix, like, "Oh, this texture, or this part, let's take that out for this stretch." And I'm like, "What? We're taking it out?" And then we take it out, and suddenly the song is better. Or the way Jim would articulate things—he has a great way of articulating sonic things there aren't words for. Mogis: [doing a James impression] "Make it sound tubular!" But it makes sense when you're in the studio, you're like, "Oh, I see what you're saying, these two sounds should wrap around each other like a web."
Paste: What do you like best about working with Mike in the studio?
Ward: Mike has an incredible attention to detail. I'm just amazed—he can hear things that I think our ears can't hear. James: I've only got so much threshold with patience, but Mike can sit there and have the patience to really dig in, and hone in on the mix. And also, Mike plays so many instruments so well. A lot of times he'd work at night; we'd all leave at midnight, and there'd be some question of what was gonna be done, and he'd be like, "I need some time alone to work in here and mess around with stuff." And we'd come back in the morning, and be like, "Fuck, that's awesome!" He would've laid down like 20 things. Ward: Percussion, keyboards, sequences.
Paste: What are you most proud of with this record?
James: I'm proud that it sounds like a band playing together. I think it sounds really cohesive. There are a lot of different sonic textures. What someone might expect is us just sitting around with acoustic guitars, kind of loose and jokey. But I'm proud that we worked really hard on it. I'm proud of it all the way around—the songs, the production, the recording quality. Ward: I love how when you put the record on, and it's your first time listening to it, you don't know what's around the corner. I think it moves in a lot of unexpected places for the listener, and that's probably because there were a lot of surprises in the making of the record. Oberst: It's diverse, but it I feel like it all holds together. It doesn't sound like if you were to make your friend a mixtape with one of my songs, one of Jim's songs, one of Matt's songs. Ward: I think the fact that we only used these four people to make every sound you hear gives it [that feel]. Oberst: And that was one of the fun parts, too—each getting to play drums and bass, being out of your comfort zone. Cool stuff happens that way.
Paste: When you do the tour, how are you going to handle it live? Are you going to switch instruments?
Oberst: We're going to have one extra member—a live drummer, just to cover all the bases. Ward: We're not sure exactly who yet. It's gonna be a surprise. James: Probably Jack and Meg White... Ward: Double drumming. James: …and Neil Peart. But he'll be low in the mix.
Others Tagged With