Kanye-Gate Continues: The Taylor Swift/Kanye West Mash-Up has Arrived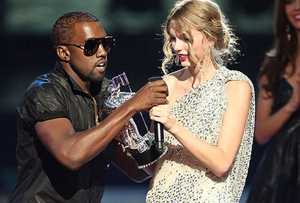 No one could have accurately predicted how the Kanye West/Taylor Swift kerfuffle would be received in this soundbyte-driven media economy. After West's cognac-fueled rant at Sunday night's VMAs, there's been an exploding cottage industry of "Imma let you finish, but..." and "BEST VIDEO OF ALL TIME" memes, blogs and blog-memes.
Now, Kanye-gate has reached its apex, ascending to dizzying heights from which it can conceivably climb no higher. Matt Kammerer, a Hawaiian-born and Utah-residing DJ has done what would have seemed impossible a scant few hours ago: made Kanye and Swift share the spotlight on the same track. All right, so he didn't really make them so much as he combined West's "Stronger" and Swift's "You Belong With Me" into a mash-up, but the result is no less stunning for the duo's involuntary participation.
We chatted with Kammerer about the mash-up, and though he was skeptical about the authenticity of West's outburst at first, he remembers thinking: "Oh this poor girl! So when I saw that I thought it'd be really cool to make a remix of her song," he explains. "And then I started thinking, oh, it'd be amazing if I could put some Kanye on here."
"I thought it would be fun and, forgive me for using this horrible term, post-modern, to put these two artists from completely different genres together, playing off of that conflict from Sunday night."
The project was a remarkably quick study: "Monday, I came up with a rough cut and posted it on YouTube, and that got some attention. So I decided I'd put a little more Kanye on it and polish it up." So is that too much Kanye, or not enough? Take a listen and decide for yourself:
This isn't his first foray into mash-ups, and he'll be re-posting some more of his work to his
YouTube channel
soon. A remix-mixtape is potentially in the offing as well.
Related links:
Others Tagged With