Magnolia Electric Co. Releases Exclusive Vinyl, Tours Europe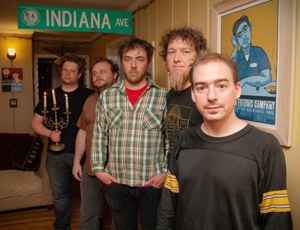 Only two months after Jason Molina's lush, melancholy LP Josephine, his Magnolia Electric Co. is throwing more tunes your way—but you'll need a turntable to hear them. "Rider.Shadow.Wolf," is a recently-released 7" hitting only the shelves of independent record stores. The titular Side A track packs a bit of a surf-rock swagger into MagCo's usual somber take on classic rock. The record's B-Side is a bare-bones rendition of "Josephine," the tune after which the band's July album was named.

While you run to your local record emporium, Molina and Co. will be busy prepping a fall European tour.
Dates:
October12
- Vienna, Austria @ WUK
13
- Frankfurt, Germany @ Brotfabrik
14
- Munich, Germany @ Feierwerk
15
- Torino, Italy @ Spazio 211
16
- Rome, Italy @ Circolo Artisti
17
- Ravenna, Italy @ Bronson
20
- Cadiz, Spain @ Aulario La Bomba
21
- Madrid, Spain @ Sala Heineken
22
- Alicante, Spain @ Mint Club
23
- Barcelona, Spain @ Sala Apolo
24
- Lleida, Spain @ Cafe Del Teatre
25
- Lloseta, Spain @ Teatro Lloseta
27
- Istanbul, Turkey @ Indigo
Related links:
News: Magnolia Electric Co.'s Josephine Gets Release Date
Review: Magnolia Electric Co.: Fading Trails
MagnoliaElectricCo.com
Others Tagged With