Morrissey to Unsheath B-Sides With Swords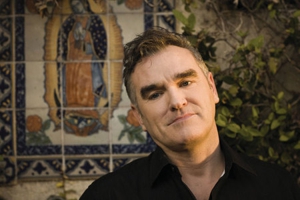 Morrissey is set to strike again with an 18-song compilation, just months after releasing his last full-length, Years of Refusal.

News of the album, Swords, leaked through two avenues: fan site True to You, and, more interestingly eBay (as TwentyFourBit found). The collection features 18 B-sides of singles from his last three studio releases, including You are the Quarry and Ringleader of the Tormentors.
Swords is slated for an Oct. 26 U.K. release, in both CD and double-vinyl form. Early copies of the album will also include a bonus disc of live renditions, from one of Morrissey's shows last year in Warsaw.
Tracklist:
1. Good Looking Man About Town
2. Don't Make Fun Of Daddy's Voice
3. If You Don't Like Me, Don't Look At Me
4. Ganglord
5. My Dearest Love
6. The Never-Played Symphonies
7. Sweetie-Pie
8. Christian Dior
9. Shame Is The Name
10. Munich Air Disaster 1958
11. I Knew I Was Next
12. It's Hard To Walk Tall When You're Small
13. Teenage Dad On His Estate
14. Children In Pieces
15. Friday Mourning
16. My Life Is A Succession Of People Saying Goodbye
17. Drive-In Saturday
18. Because Of My Poor Education
Related links:
Festivus: Coachella 2009, Friday: Leonard Cohen, Paul McCartney, M. Ward, Morrissey, The Hold Steady and more

News: Morrissey can't refuse new album, spring U.S. tour
Review: Morrissey: Years of Refusal