Neko Case Duets With Meatwad, Announces Nov. Tour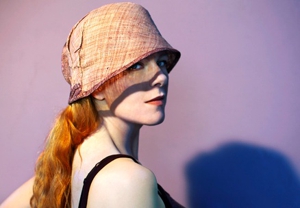 Looks like Neko Case's cyclone is picking up some speed.

The Canadian (brain fart, sorry folks!) alt.country chanteuse, whose gorgeous, lush album Middle Cyclone hit #3 on Billboard in the spring, has been gaining momentum all year. The one-time Paste cover star just announced a fall tour that'll take her all over the country.

Last week, Case stopped by New York City to chat with Elvis Costello and tape a segment for his Sundance Channel show, as well as a duet with Meatwad from Cartoon Network's consistently ridiculous and fantastic Aqua Teen Hunger Force. And it wasn't Case's first run in with the talking ball of meat; she guest starred on an ATHF episode just last year. We've long known Case's affinity for animals; apparently it extends to animal products as well.

On Oct. 10, Case will visit Garrison Keillor's A Prarie Home Companion, and just a week later she'll appear at The New Yorker Festival for a chat with Sasha Frere-Jones.

But you don't have to be famous to see Lady Case. Here are those tour dates:

October
4 - San Francisco, Calif. @ Hardly Strictly Bluegrass Festival

November
4 - Memphis, Tenn. @ Minglewood Hall
5 - St. Louis, Mo. @ The Pageant
6 - Urbana, Ill. @ Canopy Club
7 - Bowling Green, Ohio @ The Clazel Theater
8 - Rochester, N.Y. @ Harro East Ballroom
10 - Boston, Mass. @ Wilbur Theater
11 - Tarrytown, N.Y. @ The Tarrytown Music Hall
12 - Portsmouth, N.H. @ The Music Hall
13 - Northampton, Mass. @ Calvin Theatre
14 - Providence, R.I. @ Lupo's
15 - Montclair, N.J. @ Wellmont Theatre
16 - New York, N.Y. @ Beacon Theatre
18 - Charlotte, N.C. @ Knight Theater
19 - Orlando, Fla. @ The Plaza Theatre
20 - Tallahassee, Fla. @ The Moon
21 - New Orleans, La. @ The Republic
22 - Houston, Tex. @ Warehouse Live
23 - Dallas, Tex. @ Granada Theater

Related links:
Cover Story: Neko Case Drives Us Batty
News: Neko Case Talks Farm, Middle Cyclone
List of the Day: 10 Great Cardigans That Neko Case Might Also Love

Got news tips for Paste? E-mail news@pastemagazine.com.
Others Tagged With