Paul McCartney Says Good Evening New York City With Upcoming CD/DVD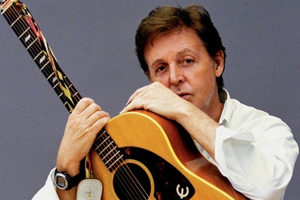 Fans of the New York Mets bid a tearful farewell to their beloved Shea Stadium this summer as it was turned into a parking lot for the adjacent Citi Field, now the team's home turf. They had a little help in drying those tears, though, from one Sir Paul McCartney who christened the stadium with a sold-out series of concerts (on the very ground where The Beatles once performed their legendary 1965 concert). Couldn't be there? You're in luck: McCartney has just announced the Nov. 17 release of a CD/DVD live album, titled Good Evening New York City.
For this first-ever concert at Citi Field, McCartney performed a multitude of favorites from the catalogs of The Beatles, Wings and his very own solo career. Good Evening's three hours of music will come in two packages: a 2-CD/DVD standard edition, and a 2-CD/2-DVD deluxe edition featuring a recording of McCartney's July 15 performance at the Ed Sullivan Theater marquee (the site of the Beatles' TV debut.) Both packages will also be available pressed onto audiophile-quality vinyl.
So while Citi Field may not be a bellwether for a revitalized Mets (And really, how much pride can you have when the only team you're ranked above is the Washington Nationals?), this will hopefully alleviate the sting of the team's current National League standing. Good Evening New York City
is out Nov. 17 on Hear Music.
Related links:
Others Tagged With