Pearl Jamband: Is Pearl Jam a Modern Grateful Dead?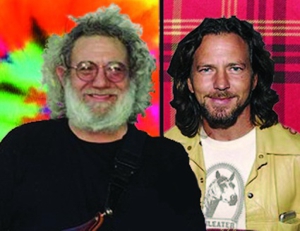 Pearl Jam has long been linked to flannel, but what about tie-dye?
As the band closes in on its second decade making music, Pearl Jam and its follow-them-anywhere fans have slowly become one of the tightest communities in rock 'n' roll, complete with a vibrant bootleg trade centered around the band's ever-changing, much-lauded live show that many claim transcends the pomp and circumstance of normal rock shows for something more human.
Sound like a mouthful? Sure. Sound like the Grateful Dead? Absolutely.
The most quantifiable Pearl Jam/Grateful Dead parallel came in cassette tapes, and now comes in MP3s. Just like the Dead's intricate network of tapers and bootleggers, Pearl Jam fans have got you covered if you couldn't make the show. PearlJamBootLegs.org, to name just one site, has 665 Pearl Jam shows recorded and available for your listening pleasure. While even that figure pales in comparison to some Deadhead tapers (Rob McKeever of WheelToTheStorm.com has 2,318 Dead shows archived), it's still approximately 55 days worth of Vedder and Co.
The argument exists, of course, that Pearl Jam, not being a real "jam band" complete with 25-minute guitar solos, couldn't truly be the successors of the Grateful Dead. Phish would, right? Well, maybe not.
The Grateful Dead was the first band in a genre it created, spawning countless musical children (Phish, Widespread Panic, moe., String Cheese Incident), and the band's following was stronger than all of the bands that came after. Pearl Jam, similarly, is the forebear of a genre (though it hasn't released a real grunge record in 15 years), and has spawned countless musical children (Everclear, Silverchair, Creed, etc.). And Pearl Jam's following is undoubtedly stronger than any of these so-called "post-grunge" bands.
Beyond each band's genre, the Grateful Dead and Pearl Jam fill similar roles overall in pop culture. Both bands are known by virtually any music fan by their hits (we all know "Jeremy"; we all know "Truckin'"), and they remain ever-present on the peripheral of the public's musical mindset. Putting Pearl Jam's mid-'90s superstardom aside, of course, the band is no Coldplay just as the Dead were no Rolling Stones.
Where the Dead/Jam parallels fray a bit, though, is in fan identity. Mention "Deadhead" to the guy sitting in the next cubicle and he'll likely summon the usual image: tie-dye T-shirt, fingers in a peace sign and a joint dangling from his lips. Although even that stereotype is increasingly false (Even Ann Coulter has admitted Deadhead tendencies), the image sticks.
So what do Pearl Jam fanatics look like? Sleeveless shirts and long hair? Dudes in flannel? Unless we're speaking of the lumberjack constituency of the band's fanbase, the answer is tough to conjure.
To Einat Shaul, a 28-year-old Pearl Jam fanatic from Israel, fans are united not in appearance, but in dedication. As the Vedder's "All the Way," an ode to the Chicago Cubs, goes, she says, "We aren't fair weather fans; we're foul weather fans."
Few people understand the bands' connection better than Dean Simmons. At 53, the Philadelphia retail manager has lived in the communities of both bands. "Jerry Garcia got onstage and my eyes opened up and my mouth dropped open," he said of his first Grateful Dead experience. And though it happened decades later, his first Pearl Jam show in 2003 wasn't so different: "There's a flow of energy, from the band to the people and the people to the band. It's like a group karaoke. Like a group hug."
The correlation goes well beyond the rapturous musical experience that Pearl Jam and Grateful Dead fans ascribe to their favorite band—the concerts of both bands are like a town hall meeting of the faithful, with friends reconnecting and new friendships made—as well as other things
"We like to party loud before and after the shows," said Shaul of her 46 (and counting) Pearl Jam shows. She's currently following her favorite band on their European tour—and it's not her first time, either. Like the generation of Deadheads that followed the band in VW vans, Shaul has traveled behind Pearl Jam with a whole assortment of similarly-obsessed fans through Australia, the States and thrice through Europe.
Although Shaul's never been a Grateful Dead fan, you wouldn't know it from the way she describes Pearl Jam shows: "You're all on one trippy journey together, like you're around a campfire with your closest friends. People coming back for their 90th show feel like they're coming home."
The Pearl Jam Takeover
Poll: Which is the Best Pearl Jam Album to Date?
Paste's PJ Mixtape: Our 25 Favorite Pearl Jam Songs
Review: Pearl Jam: Backspacer
Watch the Cameron Crowe-Directed Music Video for Pearl Jam's "The Fixer"
Pearl Jam Gears Up for Backspacer Tour
Eddie Vedder Vs. The World: A Butcher Ranks the Many Beefs of Pearl Jam's Frontman
Watch a Documentary on the Making of Pearl Jam's Backspacer
How to Sing Like Eddie Vedder: An Illustrated Guide
Pearl Jamband: Is Pearl Jam a Modern Grateful Dead?
Watch a Grainy Highlight Reel From Former Point Guard and Pearl Jam Namesake Mookie Blaylock!
Backspacer Cover Artist Releasing a Children's Book
Plaid Jam: Channel Vedder & Co. Through Their Signature Print
Wailers and Wannabes: A Lexicon of Eddie Vedder Sound-Alikes
All Those Yesterdays: Brendan O'Brien Reminisces on the Evolution of Pearl Jam and the Making of Backspacer
The Super-Impossible Brain-Busting Pearl Jam Trivia Quiz
Listen to Songs From Pearl Jam's Backspacer
Why So Serious?: One Writer's Mostly-Failed Attempt to Find Humor in the History of Pearl Jam
An Expert Fan's Guide to Pearl Jam's Bootlegs
Others Tagged With