Werner Herzog: Now Accepting Film-School Applications!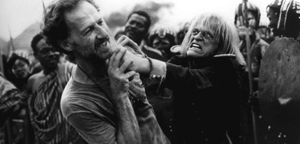 Werner Herzog is now accepting applications for his weekend-long film seminars. For $1450 plus a $25 application fee, students hand-picked by Herzog will attend a 48-hour long seminar with the director, which he says "will not teach anything technical related to film-making. For this purpose, please enroll at your local film school." Instead, the classes will teach filmmakers "a way of life."
OK. So what is in the curriculum of Herzog's Rogue Film School? It focuses on some rather ethereal goals, like how to "create illumination and ecstasy of truth." Student filmmakers will also learn how to narrate a film, which will have nothing to do with "the brainless teachings of three-act-screenplays."
Plus, it will cover "practical subjects" -- like "lockpicking, ...
the exhilaration of being shot at unsuccessfully
, ...the creation of your own shooting permits, the neutralization of bureaucracy, guerilla tactics, and self-reliance." But, says Herzog, the school "is not for the faint-hearted; it is for those who have traveled on foot, who have worked as bouncers in sex clubs or as wardens in a lunatic asylum... In short: for those who have a sense of poetry... For those who have a dream."
The prizes for completion of the Rogue Film School experience are a certificate of participation and a signed copy of Herzog's book
Conquest of the Useless
, which chronicles the
troubled filming
of 1982's
Fitzcarraldo
, starring Klaus Kinski (with whom he nearly came to blows with on the set of the film).
Although all of this may sound like
a Werner Herzog satire
, the
real-life filmmaker
is completely in earnest about the school. So send in a video, write 10 lines or less about yourself, and join Herzog for his first seminar, in January 2010 in the conference room of a Los Angeles hotel, to continue your artistic quest for "ecstatic truth."
Related links:
Others Tagged With