Starfucker Realizes It's Named Starfucker, Holds Contest for New Band Name, Tours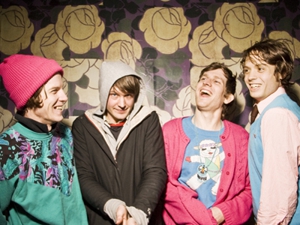 Bad band names often fall into one of three categories: intentional misspellings (Korn, Staind, Enuff Z'Enuff), nonsense (Hoobastank, Chumbawumba, Kajagoogoo) and seriously-what-the-hell-were-you-thinking. The bands falling into that third category are a special breed. Were they drunk? Is the name an inside joke that only four people understand? Regardless, a band that falls headfirst into that third category is dance-pop act Starfucker.

But Starfucker isn't made of dolts; the band members know that the name may hold them back from the big time. Any kid asking "Hey, Ma. Can you swing by Wal-Mart and pick me up the new Starfucker album?" probably isn't going to like the answer.

So, Starfucker has decided to change its name.

But wait, here's the fun part: They want you to pick it!

The band released a statement today explaining the plan: "The truth is we never thought we'd make it this far with Starfucker. It started as just a fun little house-show project, but now that we have the opportunity to do this full-time, travel and continue making music, we don't feel like the name makes sense anymore."

The band has encouraged fans to send them ideas for a new name through its MySpace page. The fan whose idea Starfucker adopts will win a Starfucker concert at his or her house, thus allowing that person to say, "Mom, guess who's coming over for dinner? Starfucker!"

The band will be touring through the fall before heading back to the studio with its new moniker. Dates are as follows:

September
12 - Morrison, Colo. @ Monolith Festival
14 - Sioux Falls, S.D. @ Nuttys
16 - Chicago, Ill. @ Empty Bottle
17 - Urbana, Ill. @ Pygmalion Festival
18 - Pittsburgh, Pa. @ Brillobox
19 - Buffalo, N.Y. @ Mohawk
21 - Boston, Mass. @ Middle East Upstairs
22 - Brooklyn, N.Y. @ Bruar Falls
23 - New York, N.Y. @ Santo's Party House
25 - Haverford, Pa. @ Lunt Basement, Bryn Mawr College
26 - Durham, N.C. @ Duke Coffee House
28 - Nashville, Tenn. @ The End
30 - Denton, Texas @ Hailey's

October
1 - Austin, Texas @ Mohawk
4 - Phoenix, Ariz. @ Modified Arts
5 - San Diego, Calif. @ The Loft
6 - Los Angeles, Calif. @ Echo
7 - San Francisco, Calif. @ Bottom of the Hill
9 - Seattle, Wash. @ Vera Project
10 - Vancouver, B.C. @ Biltmore Cabaret

Related links:
Cracked: The 25 Most Ridiculous Band Names in Rock History
YouTube: Nine Inch Nail's "Starfuckers, Inc."
Starfucker on MySpace

Got news tips for Paste? E-mail news@pastemagazine.com.

Others Tagged With