Ted Leo Signs to Matador, Preps Album for 2010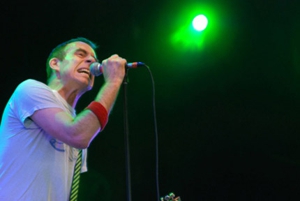 Ted Leo, whom you may know as one of Paste's Musicians to Follow on Twitter, has had some record-label trouble during the course of his career. After watching a couple imprints he was on fold (RIP, Lookout! and Touch and Go), he's landed on one that will hopefully be around for a good, long while. As announced on the label's blog today, Leo is now a member of the Matador roster.

In a fawning post that calls Leo "one of the best songwriters breathing, regardless of genre" (and hey, no arguments here, for the record), Matador said that Leo's currently-untitled album was recorded throughout this year at Brooklyn Seaside Lounge. Meanwhile, Stereogum has an in-the-studio progress report and Q&A here. The long-rumored follow-up to Living With the Living (One fanboy around Paste HQ even deemed the forthcoming record one of his six albums to get excited about in 2009. Oopies!) is tentatively scheduled for a 2010 release.

Oh, and speaking of fawning, Leo is more than happy to join the Matador ranks. Says Mr. Pharmacist on his website: "It's a weird position to be in - being able to look back from my middle age on an adulthood that has largely been spent working with some of the great labels that I so admired since I was but a young pup, and who's output and associations shepherded me along and helped me develop into the person and -ulp- 'artist,' for lack of a better term, that I am. 'In the midst of all of the action,' we sometimes can't afford to take in the broader perspective on our life's trajectory but I'm pleased to be able to sit here this morning, look back proudly on all I and we have done with Gern Blandsten, Lookout!, Touch & Go, and others, and then look ahead with drive and excitement to 'the Matador years.'"

Related links:
News: Ted Leo Releases Benefit EP, Talks New Album
Review: Ted Leo: Living With the Living
TedLeo.com

Got a news tip for Paste? E-mail news@pastemagazine.com.

Others Tagged With