Michael McDonald Talks Grizzly Bear Collaboration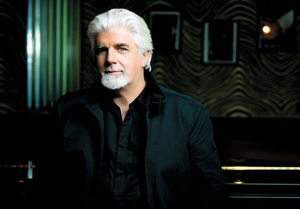 Certain members of the indie-rock community smile fondly upon artistic irony. Uncool styles of music and dress are cool to them simply because they are, in fact, not cool, only to sink back to uncool obscurity once the joke catches on and becomes a serious statement.

Confusing? Yes, but sometimes the universe works in mysterious ways.

But then Michael McDonald, of Doobie Brothers/
yacht rock
fame, appears on a track by
Grizzly Bear
, and the irony axis tilts, because while McDonald may not be riding his fixed-gear bike all over Williamsburg, he's far from untalented. And on his vocal take of Grizzly Bear's "While You Wait for the Others," his husky baritone gives the otherwise shivering track some new, you know, soul.
While the blogosphere's collective head exploded yesterday attempting to figure out if the B-side is cool, horrible, laughable or ironically all of the above, we went directly to the source. McDonald himself, calling from his porch in Nashville, laid down the law about the track, his affinity for complex music and how he's totally down with the Brooklyn scene.
McDonald first met the band at a Grizzly Bear show in New York City this spring, having been introduced by Chairlift manager Molly Hawkins, a mutual acquaintance of McDonald and Grizzly Bear bassist Chris Taylor. "I was really impressed with the show," he says. "Their songs were alluring and interesting. So when they mentioned to me about doing this, I said absolutely."
The band soon sent McDonald the track, having asked him to provide some background vocals. Apparently pleased with the results, McDonald said Taylor then asked if he'd record again—this time singing lead. "I liked the tune, I said sure," McDonald says. "Like I said, I'm a big fan of the band."
For McDonald, 57, Grizzly Bear's tightly arranged piece seemed like a perfect fit, even a return to form. "When I was with the Doobies, the style of music was that we all went over the falls with chord progressions, trying to make things as complex and interconnected as possible," he says. "The punk movement swung towards being as primitive as possible, but now it's back to where these guys are good musicians. I never thought that would come back around, but it has."
While the comparison is arguable ("Takin' It to the Streets" ain't no "Two Weeks") the man's got a point; the emphasis on musicianship and arrangement, from Grizzly Bear to Dirty Projectors to an artist like Andrew Bird, is certainly an indie-rock focus. In fact, McDonald says, were he coming up as a musician today, he'd have loved to be a part of the current Brooklyn crop of bands. "I think I could be doing the same thing—trying to make those ethereal records, where there's the song and the arrangement, but there's something in between. And you get sucked in," he says.
With another collaboration already under his belt—McDonald recorded with DFA disco duo Holy Ghost! this summer—he might not be that far off. The dude who brought you "What a Fool Believes" can hardly believe it himself. "In both cases, I was approached from the standpoint of 'We've got something that you would be perfect for,'" McDonald says of the collaborations, both brokered by Hawkins. "When I heard that, I thought, 'How would they ever make that correlation?' But oddly enough, it seemed to work."
Listen to a clip of Michael McDonald singing "While You Wait for the Others":
Discover Simple, Private Sharing at
Drop.io
Related links:
Pitchfork: Michael McDonald Sings on New Grizzly Bear Single
Review: Grizzly Bear: Veckatimest
MichaelMcDonald.com
Others Tagged With