Twilight: New Moon Soundtrack Songs Unveiled: Some Thoughts and Predictions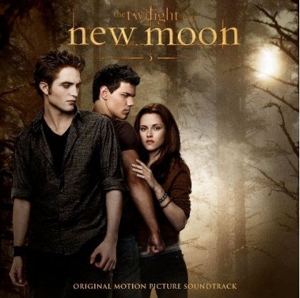 After the first Twilight soundtrack sold 2.2 million copies in the U.S. (3.5 million worldwide) there was some serious jockeying between Sony Pictures and various labels for pole position on the New Moon soundtrack. After all, that's roughly three and a half million pieces of evidence that people will actually go out and buy it instead of just illegally downloading it. Well, the finalized tracklist for the New Moon soundtrack has been revealed, and our best/worst suspicions are confirmed: boy oh boy is it indie-tastic.
"This is a much more somber movie than Twilight," New Moon music supervisor Alexandra Patsavas told the New York Times. "There is a lot of love lost, so the artists that are going to make up the soundtrack reflect that longing - a lot of acoustic instruments, a lot of a cappella singing. This soundtrack definitely feels a bit more indie than the last one."
Now, you might either gag or cheer at Ms. Patsavas' appropriation of a certain genre label for a series firmly entrenched in the
Hot Topic
aesthetic. (And that's not even a slam, really: artists from the
New Moon
soundtrack will be
touring Hot Topic stores
around the U.S. to promote the album and movie.) But don't leap to conclusions; some of these tracks might actually be pretty good. At least, we'd like to hope so. The tracklist is as follows, with some reflections and predictions:
The first single, and a mediocre one at that. "Everything, everything ends," wails Ben Gibbard over schlocky, arena-ready guitar riffs. No kidding.
2. Band of Skulls - "Friends"
3. Thom Yorke - "Hearing Damage
The internet went all kinds of crazy when they heard about Mr. Yorke's involvement, but the joke's gonna be on us when Yorke reveals that Stephenie Meyer and the Twilight series were an elaborate hoax in the run-up to the release of his 44-minute concept suite: Insan(e)guin.
4. Lykke Li - "Possibility"
5. The Killers - "A White Demon Love Song"
As long as it's not another ho-hum Springsteen knockoff, it probably won't be terrible. That won't stop them from shooting a music video set in a small post-industrial town on 1970s film stock, though.
6. Anya Marina - "Satellite Heart"
Modest Mouse's "
Satellite Skin
" was a great song, so this could be at least 47.5% great if you do some fuzzy math. Come to think of it, "Satellite Skin" would (probably) have been a way better spacecraft-themed tune for this album...
7. Muse - "I Belong to You"
Like everything else Muse does, it'll either be
red-hot
or a
total turd
. In a perfect world they would realize that Queen did certain things first and best, and move on. But you know what they say about perfect worlds...
8. Bon Iver & St. Vincent - "Roslyn"
Bon Iver releases an EP titled
Blood Bank
and we're supposed to think this is all just
one big coincidence
? We're through the looking glass here, people.
9. Black Rebel Motorcycle Club - "Done All Wrong"
10. Hurricane Bells - "Monsters"
11. Sea Wolf - "The Violet Hour"
12. OK Go - "Shooting the Moon"
Here's a way to make this one an instant viral classic: Vampires (stay with us now) ON TREADMILLS!
13. Grizzly Bear - "Slow Life"
What's it gonna be, Grizzly Bear? You can be the soundtrack to 3 a.m. cashed-bowl bull-sessions or the travails of listless abstinence vampires, but not both! Actually, both of those subcultures are nocturnal, so, maybe they're on to something here.

14. Editors - "No Sound but the Wind"
15. Alexandre Desplat - "New Moon (The Meadow)"
Related links:
Others Tagged With