Why So Serious?: One Writer's Mostly-Failed Attempt to Find Humor in the History of Pearl Jam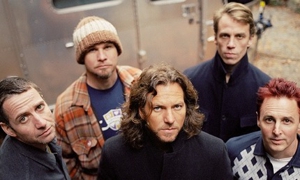 Through a rather tedious yet glaringly unscientific process, I've come to the conclusion that Pearl Jam is the least funny band working in the music business today. I don't mean that, as individuals, the band members personally lack senses of humor. They might. Or they might not. I don't know. But as a band, as a public entity in an entertainment industry increasingly defined by a certain ironic smirk and snark, Pearl Jam is largely impenetrable, un-make-fun-able. They just exist. They are what they are. And they don't need any cute quips or clever charms to convince anyone of their worth. You can say funny things about them (Paste's own Christina Lee and Justin Jacobs sure did today... and then there's Weird Al), they just don't do anything funny themselves. The band is straightforward: It is solid, it is rock.

And, as soon as I realized this, it really started to bother me.
Chalk it up to some deeply-engrained defense mechanism or just my naturally effusive wit (please imagine batting my eyelids coquettishly while also pretending to strangle myself right here), but I get weirdly uncomfortable when I can't make a joke about something, and the more I thought about Pearl Jam's apparent unfunniness, the more it started to kind of give me the creeps. There's
no way
they're not funny. They're
human
. Humans are
funny
. Even when we don't think we are, even when we are trying so hard not to be—
especially
when we're trying so hard not to be—we are a really funny bunch, just as a species, full of foibles and peccadilloes all ripe for the ribbing.
And so I set out on a magical journey through the bowels of the internet.
I Googled the keywords "eddie vedder funny." The top search result is
this page
, featuring a photo of a giant replica of Eddie Murphy's head being pulled down some interstate on a trailer. This was a publicity stunt in advance on Murphy's 2008 movie
Meet Dave
(don't ask how I know that), which did not involve Eddie Vedder and was
not actually that funny
. Next!
I Googled "pearl jam funny," hoping to broaden my scope. The first hit is a link to this YouTube video...:



...which, to be honest, totally cracked me up. Potato wave! Still, though Vedder's lack of lyrical enunciation is pretty funny, the real hilarity is mostly due to the efforts of this Misheardlyricsguy. So I kept scrolling.

Another result for "pearl jam funny" was this article from Australia's Sydney Morning Herald. In it, writer Dave Simpson describes the early days of Mookie Blaylock, the band Mike McCready, Jeff Ament and Stone Gossard formed after Mother Love Bone but before Pearl Jam:

"In fact, the early days of the band owed everything to chance. One was sending a tape to ex-Chili Peppers drummer Jack Irons in the hope he might join them. Instead Irons passed the tape to Vedder, a basketball buddy who sometimes sung in a San Diego band. Vedder mailed the tape back to Seattle, lyrics added which told stories about a man who discovers his father isn't his real father and embarks on an Oedipal murderous rampage. The band thought they were funny. They didn't realise they were partly true. When he was 12, Vedder found out the man he thought of as his dad was actually his stepfather. His real father was someone who Vedder had known as a family friend, but who had died of multiple sclerosis."

Cue sad trombome! Ah, but wait:

"Still, Vedder says, he feels a sense of 'adolescent disturbance,' but compares his lyrics to the writing of Virginia Woolf or Edward Albee," Simpson writers, "saying that laughing at things that are 'absolutely brutal' is part of coping."

Phew! But still, that's Vedder laughing at himself. Not sure if we could get away with it without seeming like total assholes.

Speaking of assholes, Vedder sported a pretty ridiculous haircut at the 2002 Rock & Roll Hall of Fame inductions. His freshly-shorn mohawk was on full display when he took the stage to introduce The Ramones in a sixteen-minute, super-heartfelt speech that was actually cut for time on television. (VH-1 posted the whole text here.) What, was he entering some kind of late-blooming adolescent rebellion?

Oh wait, no, it was an anti-war protest. Dang.

"I'll keep the mohawk until we stop killing people abroad," Vedder was quoted as saying shortly after the ceremony. "You don't have to read the paper, you don't have to pay attention—but if you happen to see a picture of me and the mohawk's still there, you can just go—oh, yeah, we're still killing people."

He looked like a goober, but at least he was a principled goober.

I moved on.

I remembered that, a few months before the mohawk incident, Vedder had performed on a star-studded prime-time TV fundraiser—sounds cheesy, right? Like, was Dionne Warwick there? Actually, no. It was America: A Tribute To Heroes, held just 10 days after the Sept. 11 terrorist attacks to support New York City firefighters and police officers. Not exactly Kidney Now. Vedder played "Long Road" with Neil Young, and it was awesome, even if Neil got kinda sidelined on the organ over there.



Really grasping at straws, I visited Wikipedia, hoping to find some ammunition there, maybe a section on the Pearl Jam page called "The McDonalds/Hamster fiasco" or "Stone Gossard's blue comedy album" or some such nonsense. All I came up with was this actually kind of lame photo of Vedder playing a tambourine at a 2000 concert in Columbia, Md. Ha, what's with all the white? Hope he doesn't get his period in those pants! And, seriously, a tambourine? I've seen kids rocking harder in elementary school music class.

But I'm suspicious now, after all this—there's probably some perfectly logical explanation for this, possibly involving some humanitarian cause and/or a deeply personal tragedy. Cue me feeling like an insensitive asshat in five, four, three, two...

Much to my chagrin, this wound up being an exercise in trying to wring blood from a stone (Or a Stone Gossard, as it were... rimshot? No? Ugh). As a last resort I turned to what so many others before me have sought out in times of desperation: Twitter.

I asked:



And I received:




At Matty's suggestion, I Googled "Jeff Ament hats" and hey, what do you know? Actually kind of chuckle-inducing! Especially this Facebook status update, which may or may not be him, or may or may not be some fan posing as him—I'm not sure which would be funnier. But still. He's just a dude wearing hats. A lot of hats, yes. And frequently, and over a long period of time, yes.

But. Hats? So normal. So not silly. So not funny.

I'm spent. So what do you think, dear reader? Is there anything funny about Pearl Jam? We've covered misheard lyrics and odd fashion tendencies, oddly purposeful hairstyles and occasional lame instrumentation. What else do you gots? Not much, I'm betting. But hit me with your best shot.

The Pearl Jam Takeover
Poll: Which is the Best Pearl Jam Album to Date?
Paste's PJ Mixtape: Our 25 Favorite Pearl Jam Songs
Review: Pearl Jam: Backspacer
Watch the Cameron Crowe-Directed Music Video for Pearl Jam's "The Fixer"
Pearl Jam Gears Up for Backspacer Tour
Eddie Vedder Vs. The World: A Butcher Ranks the Many Beefs of Pearl Jam's Frontman
Watch a Documentary on the Making of Pearl Jam's Backspacer
How to Sing Like Eddie Vedder: An Illustrated Guide
Pearl Jamband: Is Pearl Jam a Modern Grateful Dead?
Watch a Grainy Highlight Reel From Former Point Guard and Pearl Jam Namesake Mookie Blaylock!
Backspacer Cover Artist Releasing a Children's Book
Plaid Jam: Channel Vedder & Co. Through Their Signature Print
Wailers and Wannabes: A Lexicon of Eddie Vedder Sound-Alikes
All Those Yesterdays: Brendan O'Brien Reminisces on the Evolution of Pearl Jam and the Making of Backspacer
The Super-Impossible Brain-Busting Pearl Jam Trivia Quiz
Listen to Songs From Pearl Jam's Backspacer
Why So Serious?: One Writer's Mostly-Failed Attempt to Find Humor in the History of Pearl Jam
An Expert Fan's Guide to Pearl Jam's Bootlegs
Others Tagged With