John Malkovich and Diane Lane Sign on for Secretariat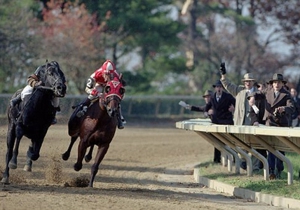 In the grand tradition of the Oscar nominee Seabiscuit (2003) and box-office flop Hidalgo (2004), Disney is going ahead with its very own horse movie, Secretariat. Due to be released in the fall of 2010, the film began shooting this week in Louisiana, and is scheduled to film in Kentucky in the coming months.
Secretariat
is the story of the underdog racehorse that won the U.S. Triple Crown in 1973, the first horse that had done so in 25 years. (For the uninitiated, the Triple Crown refers to the three major thoroughbred horse races every year in the U.S.: the
Kentucky Derby
, the Preakness Stakes, and the Belmont Stakes.) Also an underdog in
Secretariat
's story is his owner, Penny Chenery, whose gender and success made her a rarity in horse-racing at the time.
Diane Lane
is signed on to play Chenery. Also reportedly cast is
John Malkovich
as a charismatic trainer who underestimates the titular horse, Dylan Walsh (
Nip/Tuck
) as Chenery's traditionalist husband who does not take well to his wife's professional pursuits, and Scott Glenn (
W.
) as a Southern aristocrat who loses the horse in a coin toss. Randall Wallace of
We Were Soldiers
will direct, Mike Rich (
Finding Forrester
) wrote the screenplay, and Mark Ciardi and Gordon Gray will co-produce.
Although at this early stage,
Secretariat
has the markings of other animal-centered sports movies made before, clearly Disney has faith in its merit. Its fall release date puts it smack in the middle of
Oscar
season, ensuring at least its consideration for a 2011 nomination.
Related links:
Others Tagged With