Yo La Tengo's Ira Kaplan Talks Collaborating with George W. Bush, Getting Complimented by Lou Reed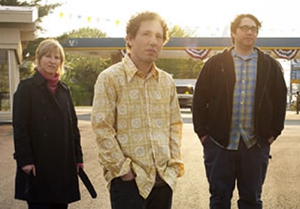 Ira Kaplan of Yo La Tengo thought his band's potential pairing with NASCAR seemed safe enough, and he went into the deal with a "Why not?" sort of attitude.

This was before previewing a mock-up of the advertisement on drummer Georgia Hubley's computer, which concluded with a voice-over saying, "Gentlemen, start your engines," spoken by none other than George W. Bush. "That was pretty upsetting," Kaplan recently told Paste. "We've collaborated with a lot of people over the years, but he was never on our wish list."

Bush's participation in the commercial was never finalized, and much to Kaplan's relief, he was eventually cut from the ad altogether. "They ultimately didn't clear his participation, and as far as we know they never showed the commercial. It was a crazy experience."

Yo La Tengo gained more favorable attention in the form of Lou Reed at SXSW, where they played two of his songs, "I Heard Her Call My Name" and ""She's My Best Friend." Reed's very presence was enough to push Kaplan off his game. "If he was watching us, it would really throw me," Kaplan confessed. "If he wasn't watching, that would suck. I did what I do, and we finished... He came up to us and said how much he enjoyed it and complimented my guitar solo, and I was like, 'Wow, thank you.' Nice encounter."

Yo La Tengo is currently prepping for their fall tour, where they'll be supporting their latest record, Popular Songs. Read Paste's full conversation with Kaplan here.

Related links
News: Yo La Tengo Soundtracks Superbad Director's New Film
News: Satellite Of Love: Lou Reed Joins Sirius Radio
List of the Day: Paste's Top 10 Buzziest Acts Of SXSW 2009

Got news tips for Paste? E-mail news@pastemagazine.com.

Others Tagged With