30 Rock Review: "Stone Mountain" (episode 4.3)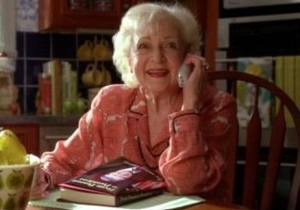 Two weeks ago, Todd VanDerWerff from the AV Club wrote a blog entitled "30 Rock's Dangerous Decline and the Shadow of Will and Grace," which I took some umbrage with mostly because I disagreed with many of the points ... and partially because there were a few that I did in fact agree with. He basically posited that the lack of character development and proliferation of plots has been what's bringing the show down, though that's a bit of a reduction of his argument. Last week's episode was particularly disappointing and made me question whether VanDerWerff was right on more than I'd initially thought.
But this week's episode brought me back as a believer. It wasn't one of the show's instant-classic that Fay and co. were churning out with ridiculous speed during the first couple seasons, but it was still a very good episode. By the standards of a lesser show it was a great episode. We've still been led to expect better, but if the rest of the season pans out in the same manner I'll be only slightly disappointed.
"Stone Mountain"'s main plot continues the search for a replacement cast member that's been the main (read: only) through-line for the season thus far. Jack is frustrated with Liz's progress and wants to investigate the heartland of America. He asks the heartlandiest person he knows, Kenneth of course, about comedy where he's from and soon enough he's flying with Liz out to Kenneth's home in Stone Mountain.
Stone Mountain is exactly the hyperbolic version of middle America, in particular the South, that Kenneth has been portraying in stories for the past couple of years and, while a lot of the jokes are pretty easy, they're nonetheless well-written and above all funny. Jack ends up watching a redneck comedian/ventriloquist act and soon hires him as the show's cast member replacement. A second viewing of his act leads to Jack tearing off the dummy's head and running out of the comedy club/meathouse as fast as he can. What provides the real ballast for this plotline, though, is Liz and Jack's bickering about what the difference between the coasts and middle America is (or if there even is one). It's good material but it also addresses the show's constant criticism of being too east coast intellectual. 30 Rock answers: Yes, but screw it, who cares?
The show's b-plot is about TGS' writers trying to party with Jenna so that they can go to a gay Halloween party and thus be at a party with hot girls. The logic follows, just trust me on that. That's pretty much all there is to it, but bringing the show's writers back into the mix is always a good thing, and the back and forth between them and Jenna's gay friends led to many of the show's best lines.
Finally, in its c-plot, Tracy is paranoid about dying because two other celebrities have recently died and there's apparently a rule of three on that. …And by famous he of course means the man who inspired Pac-Man and a clogdancer/HuffPo writer. He starts trying to kill people so he doesn't become the third, which leads to a surprisingly funny, all things considered, Jimmy Fallon guest appearance that nicely doesn't take up more time than it needs to.
So the question is whether the lack of character development in place or the number of plots was detrimental to the show -- to which the answer is no, not really, because that's not the show 30 Rock is. Like Seinfeld and The Simpsons, 30 Rock has never been ABOUT character development. Everyone is so well-defined at the start they don't really have anywhere to go. In the same way you don't expect George or Homer to grow, I wouldn't hold my breath on Tracy becoming anything more than an over-the-top rich celebrity stereotype. But that's ok. It's funny. The rut that needs to be feared is about plot repetition, which is what was going on last week. So long as visiting Kenneth's hometown or Tracy's death paranoia doesn't become a regular thing, the show should stay at least very good. For now, let's embrace the wackiness and see where the rest of the season takes us.
Random Observations:
"Canada? That's as good as Iraq."
"Fred Dawkins, the incredibly overweight guy that pacman was based on, died."
"At least he died doing what he loved … blogging on the Huffington Post."
"This is going to be the scariest Prison parents' weekend ever."
"I'm not going to be pushed aside and forgotten … like that time at my sister's funeral."
"Being nice to the writers—interesting idea."

"God, are you doing this to me because I stole that blind guy's hot dog?"
"Could you close your blinds --- you're really bumming us out." -Writer's note: kinda afraid that's more what my party will be like, especially since I used to be a comedy writer …
"I want to go where nothing can happen to me … can you get me on Charlie Rose?"
-"Fatty Fat's Sandwich Ranch" is the best title I've ever heard for a restaurant.
"All of humankind has one thing in common - the sandwich."
"Who'd be surprised, your worldview is food based."
"I'm engaged, but not on Halloween."
"Why is everything a little different here? I hate it!"
-"Read my face" is both unquotable and the best joke of the episode.
"Are we cowabunga on this?"
-Two good sketches a week for one cast member would be amazingly hard for today's modern SNL.
"All God's children are terrible."
"To the Kia Sorento!"
Others Tagged With