AC/DC's Back Tracks Box Set: Also a Working Guitar Amp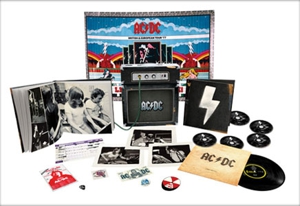 AC/DC told us that rock 'n' roll ain't noise pollution, and they made a decent (if somewhat lyrically repetitive) case in 1980. But the Aussie rockers are going to have a much harder time defending that claim when they're throwing gasoline on the metaphoric flames: Their recently announced rarities box set Back Tracks will be packaged inside a working guitar amplifier.
The box set bills itself as a "comprehensive collection of the band's studio and live rarities," all remastered and gathered into one package of three CDs of b-sides and live tracks, two DVDs of music videos and the 2003 Circus Krone show, and a vinyl LP of of studio rarities pressed onto audiophile-quality vinyl. Also included is a 164-page coffee table photo book, and some reproductions of vintage AC/DC merchandise.
And yes, it's all packaged inside a box designed to resemble an AC/DC amp, complete with a "head" that doubles as a fully-functional guitar amp.
Back Tracks
is due out Nov. 9; you can pre-order at the box set's
official website
.
Related links:
Others Tagged With