Best of What's Next: Sally Shapiro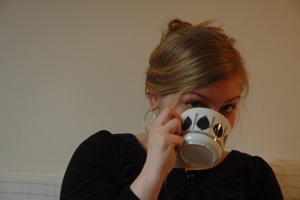 Hometown: Gothenburg, Sweden
Album: My Guilty Pleasure
For Fans Of: Annie, Little Boots, Valerie Dore
When Sally Shapiro started making music, she faced a reaction few artists have to deal with: speculation that she wasn't real. "Sally Shapiro" is an assumed name, and she's too shy reveal her true identity or perform live. And, because her voice is so pure that it often sounds superhuman, rumors flew after the release of her 2007 debut that the whole act was an invention—a sort of musical Simone created by producer Johan Agebjörn.
But the Swedish chanteuse behind the pseudonym is very real. Shapiro and Agebjörn met while working at the same office, and the two bonded in 2004 after exchanging mix tapes and discovering a mutual affinity for Madonna. He had been dabbling in techno and ambient music for years, and convinced her to sing a little, just for fun. She agreed, but asked him to leave the room—a policy she still maintains today.
"When we recorded 'I'll Be By Your Side,'" Shapiro says of her first single, "I didn't even know Johan would let it out on the Internet and let other people listen to it. He just did it." It was a new experience for Agebjörn, too, who had never made a pop song before: "It was like a quantum leap forward," he laughs.
Shapiro and Agebjörn's continual tinkering with their particular brand of lovely, ethereal electronic disco culminated in 2007's Disco Romance, which earned critical praise and inspired two volumes of remixes from the likes of Junior Boys, Dntel, and Holy Fuck. Throughout, Shapiro remained a mystery, granting only a select few interviews and never divulging details of her private life. You can hear it on the album: there's something guarded about Disco Romance, some trepidation in the vocals that's never quite overcome.
But My Guilty Pleasure, Shapiro's sophomore album (out now), reveals something heartening—musically and lyrically, at least, the recluse is coming out to play. The album takes risks (including a cover of fellow Swede-popper Nicolas Makelberg's "Dying in Africa," which cheekily explores the lack of perspective in love); it also reveals more varied influences than the strictly Italo-disco sound of Disco Romance. Some of this new-found courage has translated into Shapiro's life: "I am much more confident," she says, though she's still not comfortable with the idea of living in public. On the subject of a live tour for the album, she says simply, "I won't," then laughs at her own brusqueness.
It's remarkable, really, how much normalcy Shapiro and Agebjörn have managed to maintain. Agebjörn has recently decided to study psychology, explaining, "I'm very interested in why people feel bad." (This won't surprise to anyone who has heard his songs.) Shapiro, for her part, still has an office job, and most people there don't know about her double life. "My friends know who I am," she says, "but no one else."
Happily, Shapiro is willing to get a little personal—at least enough, given the title of the new album, to share a few of her own guilty pleasures. "I really like musicals," she confides. "That's something I don't mention often, in the first place, when meeting new people. I really like going to musicals at theaters and looking at old musical films." She pauses. "And then, like, you know, Hugh Grant movies."
Others Tagged With